The Philippine Pavilion at the Venice Biennale International Art Exhibit will add to its highly-praised repertoire a performance by renowned Filipino artist and activist David Medalla this August.
Considered a "pioneer of kinetic art" by art curator and partner Adam Nankervis, Medalla received recognition for the "Cloud Canyons" bubble machine pieces, which have been featured in various international modern art exhibits since the 1960s.
Medalla, a Colombia University-trained artist, also edited SIGNALS news bulletin from 1964 to 1966 in London, where he founded the London Biennale in 2012.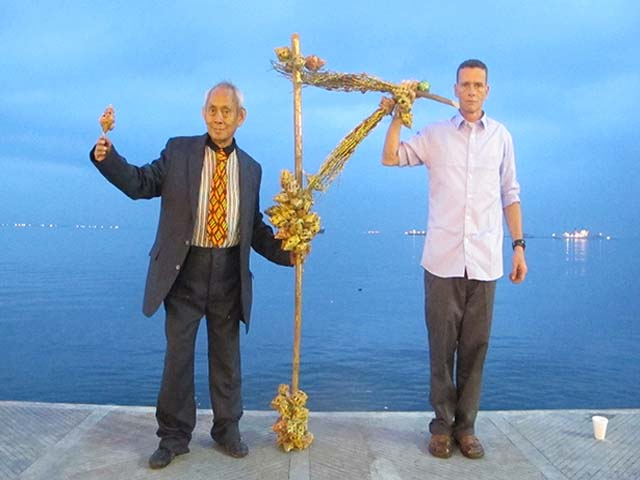 Mondrian Fan Club, The Letter "P" on Manila Bay, 2013. Photo: Ramon Lerma.
Despite describing himself a "citizen of the world," Medella still considers himself a Filipino, having exhibited portraits and sand reliefs inspired by Filipino pasttimes with the Ateneo Art Gallery in 2012.
Medella's performance at the Philippine Pavilion for Pangarap sa Panglao will allude to his boyhood dreams of the pirate Li Ma Hong and the writings of various historians, including Antonio Pigafetta's account of Ferdinand Magellan's journey.
The piece works concurrently with the exhibition's overall theme of "All The World's Futures" and the Philippines' motif of world-building, tackling conquerors, and the West Philippine sea territorial issue.
Medella will perform at the Philippine Pavilion at the Palazzo Mora on August 20 at 3 p.m. Venice Biennale will run until November 22.
—Rie Takumi/KBK, GMA News