SAN FRANCISCO - Filipinas of every eneration, careers and none, surged in a sea of pink that swept cities around the world in the first of civil assemblies directed at one main subject.
Like the storm predicted for Saturday, Jan. 21, Fil-Ams poured into The City, uniting with hundreds of thousands - other females, males, children and babies, and LGBTQ - at the Women's March is San Francisco Civic Center.
Billed as a rally and "reverent, festive candlelight march" to support equality, truth and justice, the mass rising gave platform for protest against the policies of the new US administration in general and the 45th president in particular.
"I'm here to show [President Donald] Trump that we reject his misogynistic and xenophobic tweets," said tech executive Bettina Santos Yap, a resident of South San Francisco and founding president of ALLICE Alliance for Community Empowerment, an all-volunteer family violence prevention nonprofit.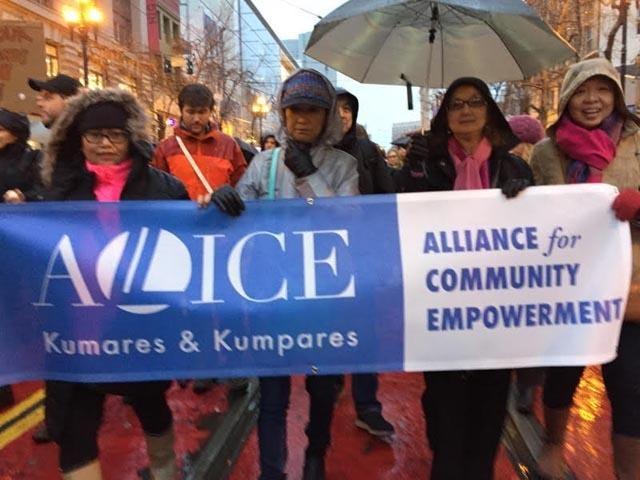 ALLICE Kumares march against abuse of power. Photo by Voltaire Yap
"No one is going to tell me what to do with my body," Daly City PR firm owner Sarah Jane Ilumin rebuffed the GOP vow to overturn Roe v Wade, while Oakland massage therapist Edna Murray defended "immigrants who have contributed to this country's greatness" in the face of Trump's description of newcomers.
Rebuttal to Trump's pronouncements blared from the stage that headlined activist singer Joan Baez. Unfiltered sentiments screamed from signs, T-shirts, and "pussyhats" referencing Trump's bragging about celebrity entitlement on the infamous Access Hollywood video. Behind the serious objective of the event was jubilation in the ensuing solidarity.
Organizers made a point of scheduling the march after the anti-abortion rally Walk for Life held that morning.
The San Francisco rally was among a reported 600 US and worldwide sister events to the principal demonstration in Washington DC Bay Area gatherings also took place in Walnut Creek, Oakland, Redwood City, and San Jose in defense of women's rights, gender equality, environmental protection and pathways to naturalization, among issues in Trump's firing line.
Across San Francisco Bay in Oakland, Filipino Advocates for Justice and partners united "students, parents, low-wage workers, immigrants and others across the range of people worried about a Trump-led Federal government," said FAJ executive Lillian Galedo.
"We channeled the Filipino community's determination to resistance walls, deportations, increased policing, loss of healthcare, racism, misogyny and other threats to civil and human rights put forward by the new administration."
The San Francisco gathering drew multigenerational families like the Ramoses, who reunited behind a common cause.
"I marched to show my solidarity with women, immigrants, people of color, Muslims and anyone and everyone who feels demeaned and whose hard-won rights are now being threatened by Trump and his administration," declared Corin Ramos, a realtor in Reno, Nev., who held up signs with her mother Linda Ramos, twin daughters Lauren and Shyla, sister Carol and friend Jennifer Fei.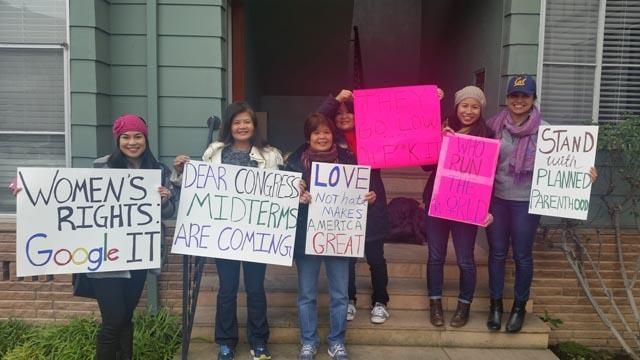 Three generations of activists: Matriarch Linda Ramos, daughters Corin and Carol, granddaughters Lauren and Shyla and friend Jennifer Wei. Philippine News photo
"The march was cathartic. We were so happy to participate despite the rains and wounded knees," said Positively Filipino publisher Lisa Yuchengco, who had alerted friends of the march around the Christmas holidays. She energized luxury real estate broker Susan Po Rufino, retired banker Mila Llorente and husband Ernie, retired deputy City Attorney in San Francisco. They braved the surge of humanity, basked in the positive energy and admired their beloved city flooded that evening in the colors on the women's movement.
Yuchengco, who founded the 30-year-old humanitarian organization Philippine International Aid, posed the logical question: "What's next? Hope it doesn't end up like Occupy Wall Street – went nowhere."
The answer may be in the hands of the next generation.
Feminist dad Carlos Cervantes and 14- year-old daughter Angel hopped back into a packed train to San Mateo from their historic exercise in civics.
Best part was "coming together behind the belief in equality," said the young activist, who channeled Princess Leia with her personal directive: A woman's place is in resistance.
Lauren Ramos seconds the motion: "Three million of us marched for a cause today, letting it be known that we will not be complacent, that we will not accept anyone who tries to simmer down the beautiful melting pot that is my home, OUR home," Lauren Ramos said. "As a Millennial, I will use the privileges I have with technology and social networks to have our voice be heard, so bring on the midterms!"
FAJ aired warning: "January 21 was a baseline for what is to come over the next four years as we carry the power, energy and commitment from the streets to the halls of Congress to protect our communities, and secure human rights for all people across the country." —Philippine News

Above is adapted from original story published in Philippine News and Positively Filipino. Cherie M. Querol Moreno is PNews editor at large and founder-executive director of ALLICE