FOSTER CITY, Calif. - This time every year, the 10 children of Conchita Dalupan Sebastian gather together to honor their beloved mother, who was born on the feast of the Immaculate Conception 90 years ago.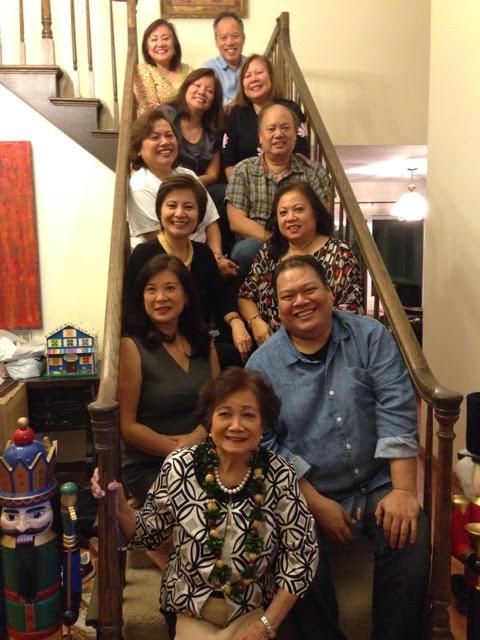 Conchita Sebastian (at foot of stairs), had 10 children. The loss of youngest child Rocky (seated right, behind his mother) hit her hard.Cecile S. Nobuhara
The tradition will continue next week without the honoree and her youngest born.
The Foster City resident died November 19 in a car accident in San Luis Obispo on her way to Southern California, a tragedy that has shocked and saddened her large brood and many friends around the world. Nineteen days earlier, she had suffered the loss of her son to complications from a recent cardiac arrest.
The clan will honor Mrs. Sebastian and her son Rolando "Rocky" Sebastian 10:30 a.m., Saturday, Dec. 12, at St. Luke's Catholic Church here, where the devout Catholic matriarch often began her day hearing morning Mass.

Concepcion "Conchita" Sebastian lived her nine decades to the fullest.

The widow of Dr. Ricardo Sebastian was blessed with a radiant personality and contagious exuberance that lifted everyone who had the fortune to meet her.

"She had a heart of gold and the boundless energy of a child, " said daughter Cecile Sebastian -Nobuhara. "Her legacy of pure love and kindness lives on in her family and friends."

Among her gifts was a positive outlook that enabled her activity in her advancing years.

She delighted in headlining the many celebrations of her kin just as she supported the humanitarian advocacies of her extended family, who called her "Tita Chit."

"Mom always said to be kind and to live by the Golden Rule," said daughter Carol Sebastian -Goretti. "She led by example."
"'Mom always left a lasting impression even on people who she just met for the first time," added eldest son Raul Sebastian. "Because after five minutes of conversation, they would know so much of our family history."
Theirs indeed was a remarkable journey that spans the greater Manila, Chicago and San Francisco Bay Areas.

Her children know full well her mother's earliest heroics in her ancestral homeland. Daughter Cecile S. Nobuhara told Philippine News:
"During the Japanese occupation, Mommy and her younger sister Tita (Aunt) Stel Dalupan were recruited to pass messages to the Filipino underground by one of her suitors. He said that no one would ever suspect school girls to be involved, so my mom, then-19, and Tita Stel, then-16,would be given communiques tucked into their school books that would be handed to their brother-in-law, who was part of the resistance.
"When their mom found out what they were doing, they stopped the secret deliveries and were so scared that they would endanger their whole family. Sadly, that brother-in-law, husband of their eldest sister Tita Choling Consing, would later be captured and beheaded by the Japanese. Not of their doing, but he was very involved, apparently. "
The erstwhile courier was born Dec. 8, 1925 in Manila, educated in the U.S. East Coast and enlightened by her frequent trips overseas.

She was the fourth of six children born to Dr. Francisco Dalupan and the former Lorenza Adam, founders of University of the East and its medical colleges in Manila. She attended high school at Manila's St. Scholastica's College and in 1950 earned her Bachelor of Arts degree from Georgian Court College in Lakewood, N.J. Three years later, she received her master's degree in banking at Columbia University in New York - one of the pioneer Filipino women post-grads in the U.S. Ivy League.

With her credentials, Mrs. Sebastian could have embarked on a flourishing career in finance anywhere. Instead she dedicated herself to motherhood when she married Dr. Sebastian, then a surgery resident at St. Claire's Hospital in New York. They had their four eldest children when Dr. Sebastian responded to his father-in-law's call to return to Manila to head his new institution — the University of the East- Ramon Magsaysay Hospital (now UERM Memorial Medical Center) in Santa Mesa, Manila.

Mrs. Sebastian embraced the transition that would bring her closer to her parents and her siblings, many of whom resided in a sprawling compound near the teaching hospital. She had six more children and happily hosted often-poolside birthday festivities.

Mrs. Sebastian was the life of any party. She was a regular fixture on society pages and at the Malacanang Palace, where she spent many sleepovers with her friend Vicky Quirino. The daughter of the widower President Elpidio Quirino assumed the role of first lady with her young friends forming her entourage at civic and social events until 1956.

Less than 20 years later the political climate in the Philippines simmered, sending the Sebastians back to the United States. They settled in Crown Point, Indiana, where Dr. Sebastian resumed his practice. His wife immediately replanted her roots, joining the Welcome Wagon Club for community newcomers.

Toward the late 1980s, Dr. Sebastian retired and the couple moved west to California, where their older children had relocated earlier.
They made their home in Daly City, where reunions resumed — large, loud and memorable. Right next door was a church, where Mrs. Sebastian heard daily Mass.

After her husband of 50 years passed away in 2004, Mrs. Sebastian moved further south of San Francisco to San Mateo and later to Foster City, where many of her children already lived.

Where there was a family milestone, she was at front and center.

Mrs. Sebastian crisscrossed the country and the globe.

At 79, she rode a camel in Egypt, chiding daunted but impressed traveling companions.

Then-85, she realized that she had lost her passport on the eve of her flight home from Russia. Refusing to inconvenience her fellow tourists who offered to stay behind to resolve the matter, the intrepid world traveler drew from her logistical expertise and managed to have pictures taken and a new passport processed at the U.S. Embassy in time for the whole group's scheduled return flight.

But her favorite place was where her children surrounded her.

She was despondent when her 10th child Rocky died.
He was president of Class of 1987 of Merrillville High School in Indiana, where he made many of his closest friends for life. He later rejoined his family from the Midwest to Northern California and worked as a video game designer.
His siblings miss his "generous heart, great big laugh and gentle soul," shared Nobuhara.
The loss was particularly hard on their mother, who accepted her daughters' proposal to visit with her sisters in Los Angeles County for a change of scene.
Mrs. Sebastian was riding with daughter Carmela S. Manahan as son-in-law Noel "Boyet" Manahan drove along Highway 152, also known as Pacheco Pass, when an oncoming car crossed the median barrier, lost control and crashed onto their vehicle, according to a report by the Fresno Bee.
Mrs. Sebastian was rushed to Doctors Medical Center in Fresno, where she reportedly died. Emmanuel and Carmela Manahan survived, but the latter is still in serious condition. Both are recuperating in separate area hospitals.
The passengers in the other car survived with minor injuries. Police are continuing investigation of the accident.
Mrs. Sebastian is survived by her children: Raul and and Marleene Tolentino of Los Angeles;Cynthia Sebastian of Burlingame, Calif.; Carol and Francesco Goretti of San Francisco;Christine Sebastian of South San Francisco; Carmela and Noel Manahan of Foster City; RamonSebastian of Daly City, Calif.; Cathy and Javier Oledan and Corinna and Enrique Albert of Foster City; and Cecile and Wade Nobuhara of Honolulu; her brother basketball Coach Baby Dalupan of Manila; sisters Consuelo Consing and Stella Dalupan of Los Angeles, and their families.
They welcome friends to join them at the Dec. 12 memorial. For more information, contact ramonsebastian@gmail.com.
—Philippine News