MILLIBRAE, Calif. — State Assembly Speaker Protempore Kevin Mullin led violence prevention educators in vowing to amplify their call to action as he swore in the new officers of San Mateo County-based nonprofit ALLICE Alliance for Community Empowerment.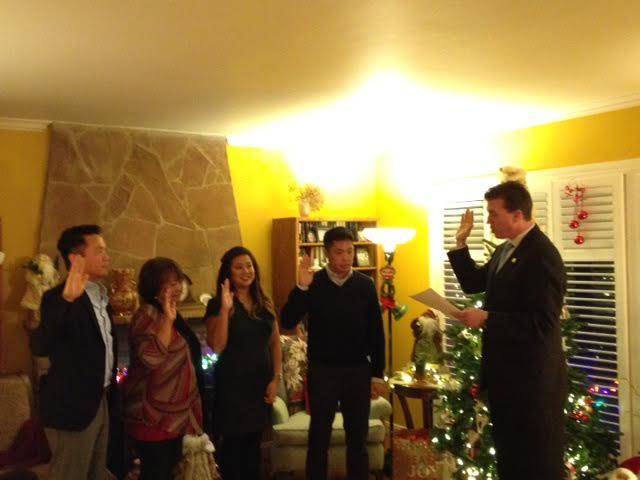 Assembly Member Kevin Mullin swears in ALLICE 2016 officers (from left) Jose Antonio, Elsa Agasid, Jennifer Jimenez Wong and Dr. Jei Africa. Photo by M.Z. Moreno
With recent events around the world magnifying the need to focus on the root causes of abuse and ultimately violence, ALLICE's new leadership team pledged to broaden their network of allies and advocates for vigorous visibility in 2016.
"My office stands with your campaign to promote healthy communities," Mullin, the team's newest ally in government, assured the Kumares and Kumpares, as members of the multisectoral team call themselves.
Mullin swore in San Mateo County Behavioral Health and Recovery Services Equity Program director Dr. Jei Africa as president, Fred Finch Children's Center therapist Jennifer Jimenez Wong as vice president, Seton Medical Group family nurse practitioner Elsa Agasid as secretary and Union Bank Vice President Jose Antonio as treasurer at the all-volunteer nonprofit organization's year-end gathering to celebrate its accomplishments and set goals for the new year.
ALLICE mounts an education presentation and provider fair on elder care and elder abuse prevention in the spring and another on intimate partner violence prevention in October, Domestic Violence Awareness Month. Both events are staged free and open to the public with sponsorship by caring organizations and individuals.
"Our work means so much more than ever," said Africa. "The attacks in Paris and San Bernardino County and the shooting deaths of suspects by police officers are adding stress to already tense environments. The public needs to know how to respond or where to turn to when conflicts occur. Our mission is to provide them with the appropriate tools to prevent abuse or deter escalation."
Preserving civility
Mullin is the Assembly's second-in-command. He himself models healthy interaction while presiding over for floor sessions.
Re-elected November 2014 to represent District 22, the South San Francisco native and former S.S.F. City Council Member was elected Speaker Protempore for the 2015-2016 legislative session the following month. He is responsible for preserving "bipartisan cooperation and civility" when his colleagues from all 80 districts conduct business and discuss copious proposed and pending legislation when the Assembly is in full session.
District 22 covers central and coastside San Mateo County including towns with high concentrations of Filipino Americans such as Pacifica, San Bruno, Millbrae, Foster City and San Mateo, as well as Burlingame, Hillsborough, Montara and Moss Beach.
The legislator's hometown South San Francisco is split between his district and District 19, represented by Member Phil Ting, which includes Colma, Daly City and parts of San Francisco.
While Mullin's committees incline toward budget, elections, business and economic development, he has spearheaded the annual Health + Safety Fair in San Bruno and frequent Senior Fraud Prevention seminars throughout the county.
Last month, Governor Brown signed into law two bills authored by Mullin that impact underprivileged families and communities aspiring to political empowerment, Filipino Americans among those most affected.
AB762 ensures continuity of care for toddlers transitioning from child care to state pre-school, according to the assembly member's announcement.
"Extending the toddler option on an infant and preschool child care license from 30 months to 36 months... helps bridge a previously existing gap in care that often put parents in a situation where they had to leave work or school for six months while while their children waited to be eligible for pre-school."
The announcement added that the other bill signed, AB44, ensures fairness and accessibility in statewide recounts for all voters and candidates by "providing a state-funded, full manual recount option at the discretion of the Governor for any statewide office or ballot measure where the margin of victory is 0.015% or 1,000 votes, whichever is lower."
The son of former Assembly and South San Francisco City Council Member Gene Mullin grew up around FilAms at home, Junipero Serra High School and University of San Francisco, before attending a leadership program at the Kennedy School of Government in Harvard.
Though his father was a teacher and Kevin dabbled in mass media enterprise, he eventually followed his father's path to the State Legislature. The younger Mullin was his father's political director and district director for then-state Sen. Jackie Speier. His local office is next door to that of state Sen. Jerry Hill in San Mateo.
"I'm proud to follow Senator Hill, who I know has been a longtime ALLICE ally," Mullin said. The officiant's wife Jessica Stanfill Mullin joined her husband in congratulating the new officers and applauding their recommitment to their mission.
—Philippine News