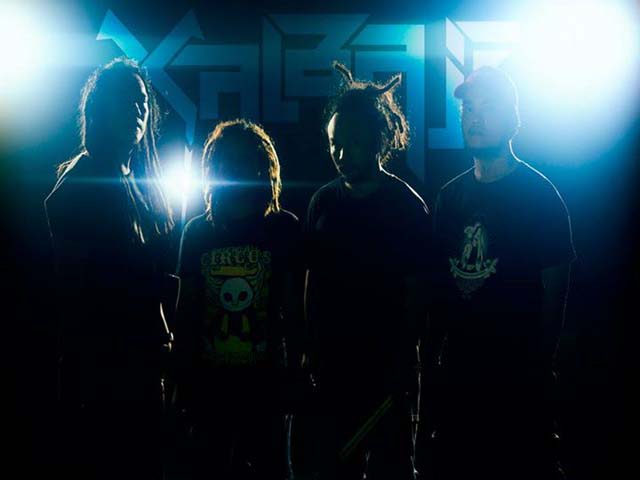 AL AIN, United Arab Emirates – Consider the band's monicker, Xalbaje (pronounced sal-ba-he), and you probably get this picture: tattooed scowling members playing loud rebel music, screaming profanities into the mic, stirring outrage among parents.
Instead you get three relaxed-looking dudes and a gal—OFWs, all of them—rocking on songs with titles like "Pag-iisa," "Binihag Mo," "Nag-Aabang" and "Muling Masilayan."
"We named our band 'Xalbaje' not because mga salbahe kami," shared vocalist Liza Uraning. "Catchy lang kasi siya. People will get to notice [us] immediately specially [dahil] mga Filipino [ang] target audience [namin]."
Whatever negative connotation their moniker may imply on listeners, the band makes it up with genuinely positive lyrics.
"Kung pakikinggan mo ang mga letra ng aming kanta, most of the story talks about giving hope and survival," said Uraning, 39, who works for the Ocean Boats Company.
Friends
Completing the band are guitarist Joven Peralta, 32, a logistics analyst at Jebel Ali Port Freezone; bassist Zandro Aquino, 35, diver/sales executive at Al Boom Diving; and drummer Tziz Cortes, 38, sales manager at Surf House Dubai.
"Magkakaibigan kami bale," Uraning said. "At first we used to jam during off days, pampaalis stress. Then one day we agreed to make our own original music."
Since 2012, when the band was formed, Xalbaje has been rocking stages in Dubai, most recently at The Fridge.
"It was actually the re-launching gig for our album," Uraning said. "We performed and shared the stage with some other talented Dubai-based Filipino bands."
Also recently, Xalbaje became a finalist in a competition held at the Hard Rock Cafe Dubai.
Album
Being OFWs themselves, the group decided to record an album dedicated to their fellow Filipino migrant workers.
"It was our dream to have an album dedicated to OFWs," said Uraning. "Nandun 'yung fulfillment when you push yourself despite the challenges, anything is possible."
Their album, "Breaking The Silence," includes the songs "Pag-iisa," "Binihag Mo," "Ako Ang Kasama," "Don't Hold Back," "On The Edge," and "Nag-Aabang," "Muling Masilayan." The album has its title track as its carrier single.
Proud of their output, Uraning said: "We believed we have reached our goal with 'Breaking The Silence.' It was hard work and a lot of patience and dedication."
The album, which the band bankrolled, can be streamed across the member states of the Gulf Cooperation Council—Bahrain, Kuwait, Oman, Qatar, Saudi Arabia, and the UAE—via the music application Anghami, the region's version of Spotify.
—KBK, GMA News