SAIPAN
— When their roofs were blown off and their ceilings started caving in late Sunday night in the U.S. island of Saipan, overseas Filipino worker Malou Hernandez Berueco's only wish was that Typhoon Soudelor would spare at least the four remaining plywoods over their head.
Almost all their belongings were already soaked in water, but the howling winds and torrential rains won't let up.
"We prayed for the plywood in the living room to remain in place so we'd still have a place to stay. It was dark and dangerous to go somewhere else. Our prayer was heard. We survived the night and stayed awake long after daybreak. Despite the destruction, my family is safe along with our four dogs and we're most thankful for that," Berueco, 48, told GMA News on Wednesday afternoon.
Berueco is just one of the thousands of OFWs and other Saipan residents totaling 48,000 still reeling from Soudelor's wrath.
The typhoon pummeled the tiny Western Pacific island from late Sunday night on August 2 to early Monday morning with winds over 100 miles per hour.
After wreaking havoc in Saipan, Soudelor further intensified to a super typhoon.
Soudelor is world's strongest storm for the year so far, with maximum sustained winds of 180 mph and gusts to 220 mph, the U.S. National Weather Service in Guam said. It is now taking aim at Taiwan and China after entering the Philippine Area of Responsibility Wednesday morning.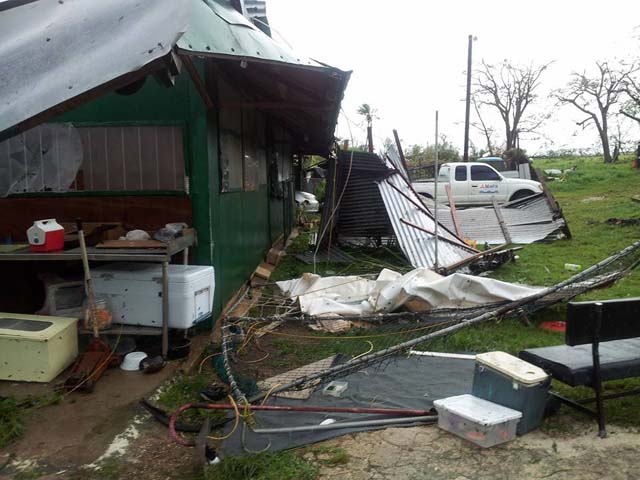 In Saipan, Soudelor ripped off homes, flattened neighborhoods, flipped vehicles and small planes over, knocked down trees and power poles, caused oil spills and temporarily shut down the airport and seaport.
Despite the massive destruction, Soudelor didn't claim a single life — something that Saipan residents are most thankful for.
"We're starting to rebuild. A new day, new hope," Berueco said. The same sentiment is shared by many others on the island.
Saipan is the capital of the US Commonwealth of the Northern Mariana Islands (CNMI), home to some 10,000 OFWs and Filipino-Americans.
$20-million damage
The CNMI's acting governor, Ralph DLG. Torres, estimated that Soudelar's damage would exceed $20 million, a cost that he said is beyond the Commonwealth's capacity.
On Wednesday morning, the CNMI acting governor submitted a formal request to U.S. President Barack Obama for an expedited major disaster declaration for the Commonwealth as a result of Typhoon Soudelor.
Once granted, this would mean U.S. federal funds and other resources will find their way to the CNMI for its immediate recovery.
The acting governor placed the entire CNMI under a state of emergency Monday morning.
"We didn't expect that Saipan would be hit this hard," Berueco, who is from Cavite, said. "Our roofs are gone. The whole kitchen roof came down on my car. Everything we owned was soaked in water but we managed to save our passports and other important documents."
Berueco, a mother of three, said riding out the typhoon with its howling winds and torrential rains at a semi-concrete home with tins and wood was the scariest moment of her life in Saipan. She has been working on the island for 21 years now.
"When daylight came, my husband and I were at a loss, we were there just staring at the damage. It reminded me of the scenes and photos after Typhoon Yolanda hit the Philippines a few years ago and I never thought that we'd also see ourselves in the same situation," she said.
Luckily, she and her family had a Filipino friend who offered a much sturdier place for them to stay after Soudelor rendered their house unlivable.
Hundreds remained at emergency shelters three days after the typhoon directly hit the island.
Water, power, food needed
"We don't have power and water. Drinking water supply on the island is running low and gas supply is limited. You can only buy up to $20 in the few gas stations that are already open. Pretty soon even food would be scarce," said Virginia Tizon, who came to Saipan to work 25 years ago.
While she's living in a concrete house with a concrete ceiling, Soudelor's strength managed to break their glass window and blow the roofs off their garage and dirty kitchen. The power pole in front of their property was knocked down, blocking road access.
"Because most trees around us were knocked down by the typhoon, we can now see the airport from our place," said Tizon, whose 21-year-old son is now with the U.S. Army and another 19-year-old son is vacationing in the Philippines.
The U.S. Department of Energy, which is helping in the damage assessment in Saipan, said the typhoon knocked down an estimated 150 wooden distribution-line poles and destroyed 114 pole top transformers.
Saipan remains without power because of damage to the power plant, but power generators are in full throttle. The only Saipan hospital is also currently operating on emergency power generators. The CNMI government's Emergency Operations Center is also currently without power.
It would take at least a month to fully restore power and water services, authorities say.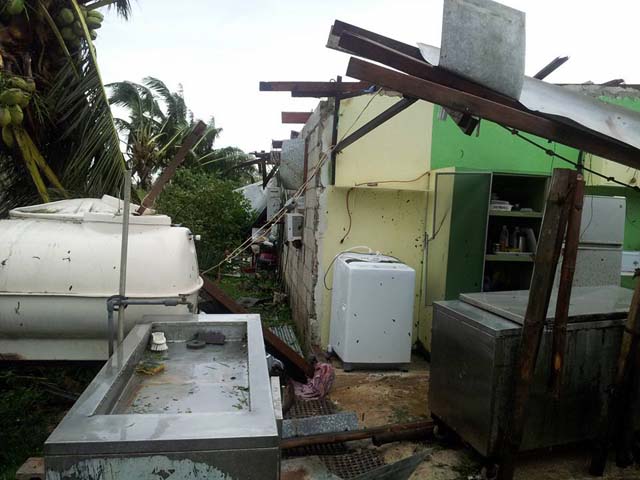 Humor
At the height of the typhoon and in its aftermath, Tizon, 53, said humor helped her deal with the disaster.
"We're on survivor mode but we will get through this. We Filipinos are known for using humor to deal with difficult situations and that's exactly what we did to cope with the hardships brought by the typhoon," Tizon added.
Rovel Tolentino Caberos, program director and on-air personality in a popular Filipino radio station in Saipan, said the typhoon brought too much destruction, including damaging a communication tower they use for their broadcast.
"We didn't expect that we'd be in the eye of the typhoon. I was wide awake when the typhoon hit. I still get goosebumps thinking about the destruction that's much worse than the ones caused by Typhoon Chaba 11 years ago," said Caberos, a journalism graduate from the Polytechnic University of the Philippines.
At this time, drinking water and food are Saipan residents' most immediate needs.
"And gas, too," Caberos, 33, added.
Stranded
Meanwhile, Saipan's international airport reopened on Tuesday afternoon but only for daytime flights at this time because of damage to the facility.
Prior to the airport's re-opening, OFWs returning to Saipan from their vacation in the Philippines or the US were stranded in the US territory of Guam. One of them was Mirasol Dayao, an accountant for Saipan Tribune newspaper, along with her family.
While still in Guam, Dayao saw photos on Facebook of the destruction caused by Soudelor on Saipan, including a concrete wall that barreled down into one of their cars' hood.
"Unimaginable destruction," Dayao said. "I never thought it would happen to Saipan at this time, with forecast of 75mph winds. I knew the forecast was in error. I thought about my mom, too. She's alone in the house and did not know that typhoon is coming that day until she messaged me that she's not going to church because it's raining. That's when I told her that the church service was cancelled due to the typhoon."
Dayao and her family spent weeks of vacation in California, Nevada, Utah and other US states. But a delay in the Las Vegas to San Francisco leg of their return flight to Saipan over a mechanical problem made them miss their connecting flight from San Francisco to Honolulu. They had to stay a night in Honolulu before flying to Guam, for their connecting flight to Saipan.
But because of the typhoon on Saipan, they had to stay in Guam from Sunday night to Tuesday afternoon. Because their delayed flight was initially caused by mechanical problem, United Airlines provided them hotel accommodation in Honolulu and Guam.
But for many others stranded in Guam as a result of typhoon, there was no free hotel accommodation so they had to sleep and stay at the Guam airport for two days.
Bong Malasarte, president of the United Filipino Organization (UFO), the umbrella organization of Filipino groups in the CNMI, said because of the severe damage to Filipino workers' dwellings especially those in coastal areas, UFO will seek help from the Philippine Consulate General, among other things.
"I will call our UFO officers for a meeting to organize a support committee to be called 'Sagip Kababayan'," he said.
Help on the way
Guam and Hawaii started sending personnel along with food, water, cots, generators and other emergency supplies to help Saipan recover from Soudelor.
U.S. Coast Guard Cutter Sequoia, for example, provided transportation for a team of Guam National Guard members to Saipan, along with a team of utility crews from the Guam Power Authority.
In Guam, Lieutenant Governor Ray Tenorio's office is organizing boot drives to help Saipan residents recover from the typhoon.
Other elected Guam officials and Guam agencies, private organizations, businesses and individuals have also organized fundraising and relief efforts for Saipan.
The American Red Cross-NMI Chapter has also started helping some 400 households involving an estimated 1,600 individuals whose houses were severely damaged by the typhoon.
But for some Filipinos interviewed, they said those help has yet to reach them three days after the typhoon.
—KBK, GMA News