Pope Francis has appointed a Manila-born priest as the new bishop for the Church in Papua New Guinea, according to a report on the Catholics Bishops Conference of the Philippines (CBCP) website.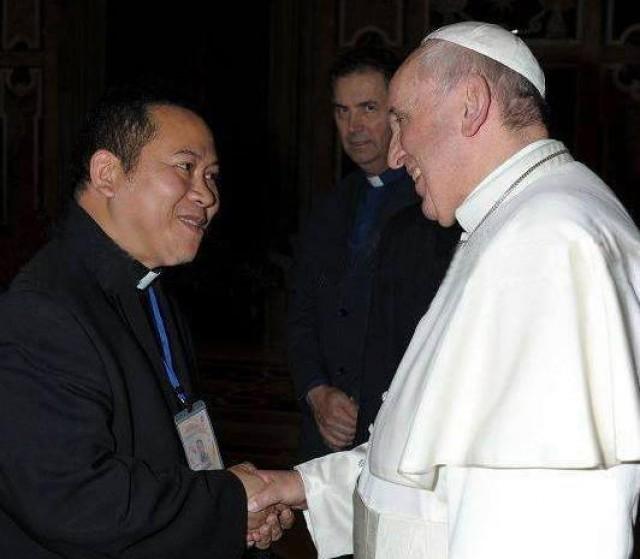 An undated photo of Bishop-elect Pedro Baquero and Pope Francis taken at the Vatican. L'Osservatore Romano/CBCP News
The report said Fr. Pedro Baquero, a 46-year-old Salesian priest, will be the fourth bishop of the Diocese of Kerema, located around 300 kilometers north-west in the capital of Port Moresby.
Born in Manila in September 1970, Baquero will oversee the 47-year-old diocese with 35 priests and 24 female religious who are working to serve more than 26,000 Catholics.
Baquero was ordained priest in 1999 after studying philosophy in the Don Bosco College in Canlubang, Laguna, and theology in the Don Bosco Study Centre in Parañaque.
According to the Vatican, Baquero has served in a number of pastoral roles, including parish priest in Lariau, Kerema; advisor to the Salesian Community in Lariau; director of the Salesian School in Lariau; parish priest in Araimiri, Kerema; director of the Salesian School in Araimiri; director of the Gabutu Technical School, Port Moresby; and superior delegate of the Salesians in Papua New Guinea and the Solomon Islands.
Currently, the bishop-elect is vice-provincial of the Salesian Province of Papua New Guinea and the Solomon Islands.
The CBCP article said Baquero is the third Filipino appointed as prelate for Oceania after Bishops Ryan Jimenez of Chalan Kanoa in Saipan in 2016 and Rolando Santos of Alotau-Sideia, also in Papua New Guinea, in 2011. —KBK, GMA News