For the first time, a diocese in the United States will be headed by a Filipino Catholic bishop, a report on "Balitanghali" said Thursday.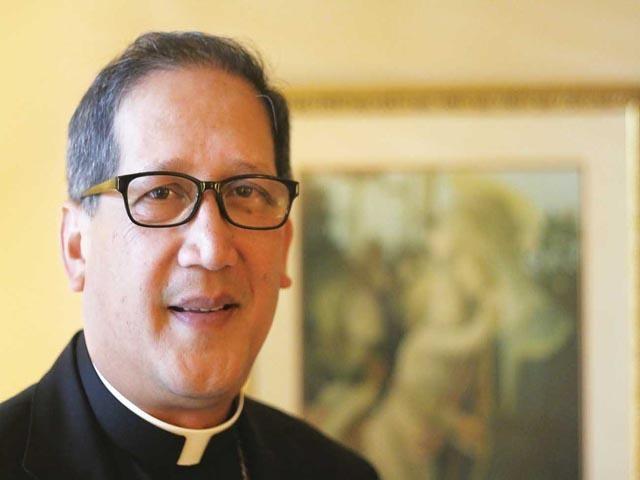 Courtesy of Archdiocese of Los Angeles
Bishop Oscar Solis became the first Filipino to lead a diocese in the US when he was chosen by Pope Francis to head the Salt Lake City diocese in Utah, the report said.
A former Auxilliary Bishop of the Archdiocese of Los Angeles, Solis called his appointment "a recognition of the diversity of the Church in America and the universality of the Church" in an interview with Angelus News.
He said it is "a tremendous blessing and a responsibility and a privilege to be of service to the local Church in the United States of America, coming from the Philippines."
Prior to his work in the US, Solis served as as rector of the Cabanatuan Diocese's high school and college seminary, a vocation director, a professor, and on the diocesan priests council.
In a study trip to Rome in 1984, the now 66-year-old bishop from San Jose City took a side trip to the US and became involved in pastoral work for the first time.
Solis said he "fell in love with parish life" as he never did parish work in the Philippines.
Solis served as pastor of St. Rocco Church in New Jersey and various parishes in the Louisiana Diocese of Houma-Thibodaux, and has considered retiring in Louisiana after 25 years as a priest.
Solis became the first Filipino to have been appointed a bishop in the US when Pope John Paul II announced his appointment as an auxilliary bishop of Los Angeles in 2003.
While there, he served as a vicar for Ethnic Ministry from 2004 until 2009 and the director of the Office of Justice and Peace from 2005 to 2009, before he was assigned to the San Pedro Pastoral Region in 2009.
After his installation in March, Solis will serve a diocese of 300,000 Catholics. —Rie Takumi/KBK, GMA News