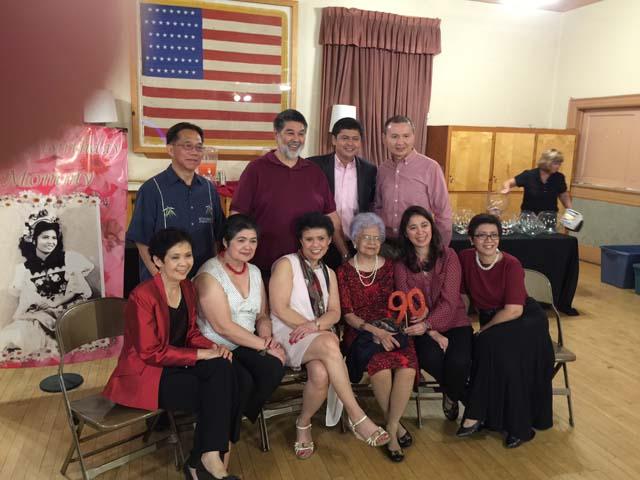 From Manila and Vancouver to Southern California, (seated) Lilibeth K. Sitcharungsi, Techie K. Bejasa, Corito K. Gonzalez, Jing K. Pe, Mian K Assidao, ( standing third from left) Sonny Kierulf with in laws Boon Sitcharungsi, Freddy Gonzalez and Jay Pe give personal greetings to their Mommy Nena Kierulf (center). RESTY GABRIEL
POMONA, Calif. - Red, representing luck, prosperity, happiness and long life, is the favorite color of Pilar Mencias Kierulf of Glendora, California.
Red appropriately splashed the big event rolled out for "Grandma the Great," as her youngest descendants refer to the honoree, to mark her ninth decade.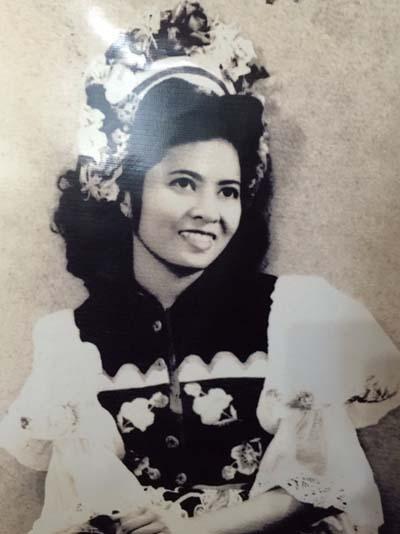 From the velvety long-stemmed roses on scarlet table tops to the guests' attire and accessories, the color of life with which the celebrant has been blessed filled the Masonic Lodge in downtown Pomona.
The widow of Ramon Kierulf listened to profuse praise from four generations of relatives for the virtues she has displayed in her 90 years.
She basked in the love of family and friends including a son, a daughter and grandson who flew in from Manila just for the weekend, and dear friends who drove up from Hermosa Beach to Pomona in the countys'Inland Empire for the birthday party to remember.
Among well wishers were former students at Little House on Montessori Lane in San Juan, Metro Manila, where the Colegio de Santa Teresa (St. Theresa's College Manila) alumna taught for years before joining her childhood friend LHML founder Lourdes Arellano Concepcion at a nursery the latter was establishing in Northern California.
"I'm happy to be here to celebrate the special day of someone special who is more than a very good friend but who is also a confidante and a sister," said "Baby" Concepcion, who alternately lives in California and Manila. Her grandfather and Kierulf's father were the first residents of the area later called Addition Hills in San Juan. The streets where the pioneers built their homes still bear their family names.
Concepcion attended the event with her daughter Rina C. Peczon, youngest of her brood that includes the actor Gabby Concepcion.
Former neighbors Lydia and Angela Wong and their sister Terry Wong Tan and her husband Charlie Tan reminisced with the celebrant's daughters Techie K. Bejasa of Pomona and Lilibeth K. Sitcharungsi, who invited their matriarch to retire to Glendora in Southern California from Pleasanton in the San Francisco Bay Area, when her daughter Kimberly was born over two decades ago.
The celebrant's grandson Jay Assidao of San Juan City, Philippines, and granddaughter Jules Pe of Vancouver, Canada, emceed a program featuring the talents of greatgranchildren Jayjay, Jaden and Lucy Gonzalez, children of grandson Gio and Steph Gonzalez of Azusa, Calif. Their own grandparents Freddy and Corito K. Gonzalez beamed proudly in the audience.
"How many grandmas learned to drive at 75, started painting at 80 and still goes to the gym at 90," the son of Lufthansa engineer Jerry and college teacher Marian K. Assidao asked knowingly?
The honoree truly embraces life.
Greatgrandson Jojo Kierulf Bejasa, son of Nikki K.B. Dionisio produced a video valentine that traced the birthday girl's long and fruitful journey, with greetings from loved ones across the globe including the celebrant's son Capt. Noel Kierulf, skipper of a ship off the Mediterranean.
To cap the event, longtime Philippine Air Lines flight attendant Ramon "Sonny" Kierulf Jr. offered a love song before delivering a Champagne toast to his mother. Cabernet Sauvignon and Merlot flowed in theme with the occasion as revelers enjoyed themselves in the hall compliments of Javier Torrez-Plascencia, Masons Grand Worshipful Master and husband of the honoree's granddaughter Margaux B. Torrez-Plascencia.
—Philippine News