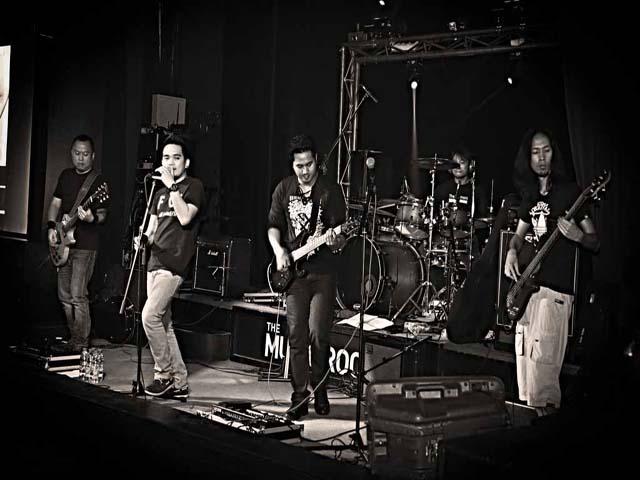 Up The Ante in action
AL AIN, United Arab Emirates – Despite having different tastes in music, five overseas Filipino workers (OFWs) here have decided to join forces and "up the ante" — that is, build a career as a rock band.
"Our passion in playing as a band comes from our dissimilar influences in musical styles and genres," band leader and guitarist John Mark "Kram" Cruz, 39, shared in an e-mail.
"We were just a bunch of aspiring musicians, confined inside a living room that we turned into
a makeshift band room," he added, referring to vocalist Rosette John Balanay, 30; guitarist Jigs Bongato, 28; bassist John "Joms" Magno, 26; and drummer Dexter "Fester" Buenagua, 35.
Then in November 2013, the band, calling themselves Up The Ante, participated in the Al Ghurair Centre's Battle of the Bands.
"We landed the 1st place. That inspired us to continue making our own music and from that day on, we've been jiggin' all over town," Kram said.
Up The Ante's music is highly influenced by Franco, Urbandub, Foo Fighters, Coheed & Cambria, Pearl jam and Dishwalla. They already have an original song, "Fallen," which Kram said is dedicated "to all the soldiers all around the world who died fighting for peace for their country."
"In performing your own original piece to the crowd, it is always uplifting and a suitable outlet to express your mindset on everything that surrounds our society," he said.
Musical influences
The varied musical influences of Up The Ante—ranging from jazz, heavy metal, alternative rock, progressive rock, country and blues—have helped Kram and the members "in contributing ideas in writing and arranging our own tune."
In the Philippine music scene, Kram had been involved with the Scam, Bloody Mary, and Last Train as a drummer, keyboardist, and guitarist, respectively.
Rosette John, on the other hand, had been engaged with the High5 and H2O; Jigs with the Redeemed Band; Joms with the Amerie and Avian Limit; and Fester with the Radiostar, One Way Traffic, Segundo and Spunky Idiots.
Challenges
Aside from the various musical influences of each of the members, Up The Ante also has to deal with one more thing: schedule.
Kram is an administrator and fleet coordinator at the flyubai. Rosette John is a medical case coordinator at the National General Insurance. Jigs is a marketing executive at the Express Money UAE. Both Joms and Fester works at the CPI Media Group as a graphic designer and a database administrator, respectively.
"As a musician here in the UAE, we are all stuck in our day jobs since it is our principal precedence," Kram said. "No matter how much we love to jam together as a band, there are always conflicts on schedules."
Despite of this, though, Up The Ante manages to have "a run-through jam" once a week.
"We always tend to improve our music and the desire to play every time we perform. We wish and would continue anywhere," Kram said. "We came from different parts of the Philippines and the only thing that keeps the members in one place together is the band."
—KBK, GMA News