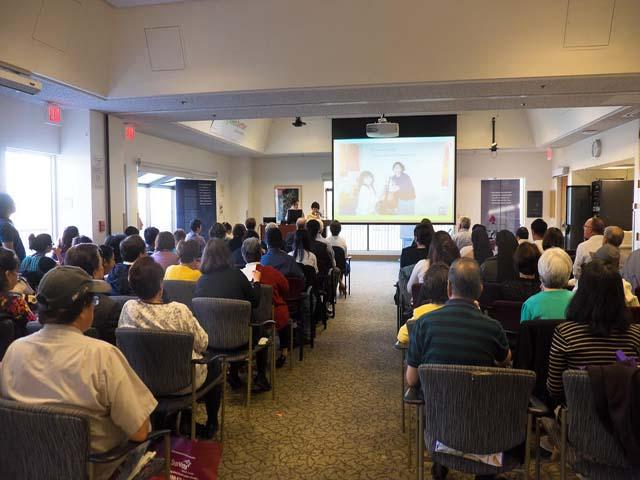 ALLICE dedicates every October presentation to Claire Joyce Tempongko, who was stabbed to death by her ex-husband in front of her two children on Oct. 22, 2000. Voltaire Yap
Before the late 1960s, the term "domestic violence" did not exist. Couples hid their troubles even from their closest families and friends. Slapping the spouse was considered appropriate in certain occasions. Battering referred only to physical attacks.Victims blamed themselves for their partners' violent behavior.
But the culture has shifted.
Filipino Americans who suffered along with other families prior to the United States women's movement now benefit from efforts sowed by that wave.
Every October, designated as Domestic Violence Awareness Month, advocates for domestic violence prevention raise the call for every sector to collaborate against the issue that affects the entire community.
The Filipino American all-volunteer nonprofit Alliance for Community Empowerment (ALLICE) drummed up the message Oct. 1 at their 11th annual Free from Violence, an education presentation and health provider fair.
Free and open to the public, the event united key allies in the domestic violence prevention movement. Union Bank led donor allies who help fulfill ALLICE's mission to deter intimate and family violence through education.
The nonprofit managed care organization Kaiser Permanente Medical Center—the largest employer in the San Francisco Bay Area—hosted the event in its South San Francisco cafeteria with Physician-in-Chief John Skerry endorsing education as the greatest weapon for violence prevention.
Philippine Deputy Consul General Jaime Ramon Ascalon led the Pledge to Help End Domestic Violence. Colma Council Member Helen Fisicaro, the seniormost sitting elected woman official in the area, stressed the critical need to set protocols for responding to domestic violence in workplaces as well as towns.
Survivor speaker Marlene Caballero relived her painful experience in the Philippines with her ex-husband to shed light on the misperception that abuse does not exist in the Filipino community.
From neglect and curses, consistent threats, and accusations of infidelity by one who was actually having an affair to pushing and strangulation, Caballero endured the attacks for the sake of those counting on her to survive. She disclosed the price she paid for it.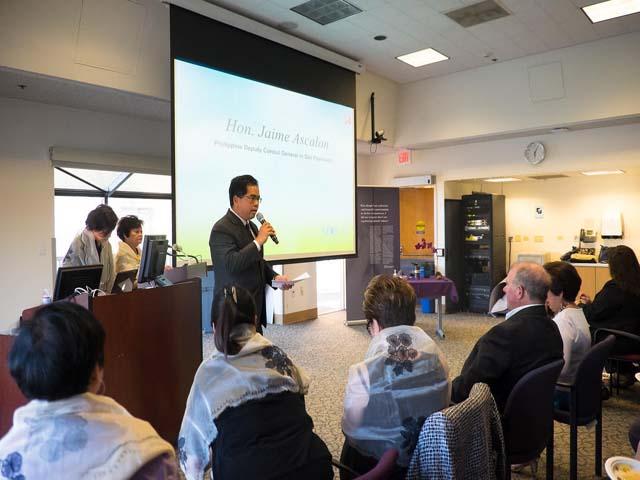 Deputy Consul General Jaimon Ascalon leads Pledge to help End Domestic Violence. Voltaire Yap
"When you live in fear, you lose your self-identity, self-worth and self- respect," Caballero summed up her past and continuing journey to healing. "My faith and my concern and love for my children helped me rise up to pick up the pieces... It's difficult to recall all the maltreatments that I was subjected to but I opted to be here to address especially those present here today, who are undergoing any form of troubled relationship, not to be embarrassed nor be afraid to come out and seek help, something I never did because my parents prevented me from doing so."
Caballero relocated to the United States, where she found a circle of caring individuals including her now-husband Bill Bosque, a lawyer in San Francisco.
Fifty years ago she might have faced more barriers to getting help.
But US feminism shifted attitudes on relationships, contending that circumstances at home are more than "private" or between the partners involved. Focusing on egalitarianism, the women's movement effectively assigned responsibility for resolving domestic issues on society at large, gaining government support for equal rights and access to females, including funding for establishment and sustenance of domestic violence service agencies and shelters.
Intimate partner abuse refers to the pattern of behavior where one partner takes power and control over the other through different attacks. These attacks come in various forms including the most common—verbal, physical, sexual, financial, and psychological.
The attacks often intersect; cursing and name-calling (verbal) then forcing or depriving affection or intimacy (sexual) reduce the victim's sense of worth (psychological). The pattern continues with the perpetrator later apologizing (emotional), giving gifts (financial) and promising not to punch or threaten the victim,who is blamed for causing the perpetrator's behavior (psychological).
The perpetrator wraps the victim in a cycle of confusion. The victim thinks the perpetrator cannot be all that bad if she or he apologizes and gives gifts; perhaps, if she or he does what the perpetrator demands, the perpetrator will change her or his ways.
Resolving the matter is not that simple.
In many cultures, women are expected to right the wrong because that is their duty.
Authorities concur that no matter how the victim tries to live up to the perpetrators' expectations, the abuse persists because the perpetrator is the one controlling the equation while the victim is mere respondent.
Barriers to getting help worsen both the survivor and perpetrator's situation. Fear of life without the abusive partner who happens to be a good provider or a prominent personality stands in the way of the survivor reaching out to resource provides: What if the partner finds out? Hell would break loose.
Buddies of people who abuse may look up to their pal for being in control of his partner or look the other way even if they disapprove because they may not know what to say without incurring their friend's wrath.
Friends and family of the survivor may be unaware of the root causes and consequences of domestic abuse so they advise survivors to "hang in there" without offering options.
Which is why every ALLICE event gathers community-based family resource providers who speak to attendees about their often-free or insurance-covered services and programs.
"All communities should be aware of the services for families experiencing violence because this knowledge enables the community to support and comfort the person going through the domestic violence,"Fisicaro told some 130 concerned attendees. "A neighbor, co-worker, classmate, relative of the victim can recommend the variety of services that can help stop the cycle of violence."
Today services include counseling for perpetrators, in which therapists discuss how and why they behave the way they do and to consider alternative responses in times of anger.
Children who witness abuse are twice likely to grow into abused or abusive adults, depending on which parent they emulate, say therapists.
Counseling services are available for children in holistic approaches that service providers practice today.
For information on ALLICE visit www.allicekumares.com. For the nearest U.S. domestic violence agency call National DV Hotline: 1-800-799-7233. For assistance to Philippine nationals call (415)433-6666 in San Francisco or the consulate in the state.
—Philippine News