A Filipina has made her name as the first female commercial pilot of Vietnam's first privately owned new-age airline.
Captain Antonette Ortiz Parocha, who was born in Cantilan, Surigao del Sur, is a co-pilot at Viet jet Air (VietJet), Vietnam's low cost carrier (LCC).
On Thursday morning, Parocha paid a courtesy call to Civil Aviation Authority of the Philippines (CAAP) Director General William K. Hotchkiss III before submitting her application for Airline Transport Pilot License (ATPL), the highest-level pilot license.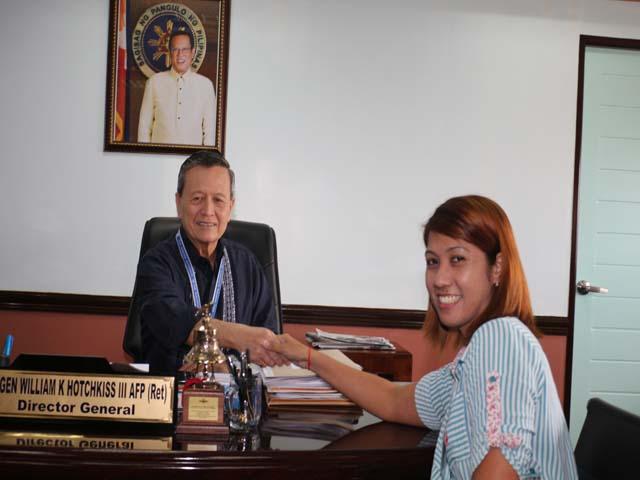 CAAP director William Hotchkiss lll with Capt. Antonette Parocha. CAAP photo
"She said she hopes to take her exam this month and pass it so she can take her check rides and become a commercial pilot being addressed as 'Captain'," the CAAP said in a statement.
ATPL is the highest-level pilot license that allows the license holder to fly professionally as a pilot in command of multi-crew aircraft with a any commercial airline company.
"The minimum flying hours requirement is 1,500 flying hour where Capt. Parocha is very much qualified after having log over 5,000 flying hours," CAAP said.
Parocha said she was hired as co-pilot in 2014 after she accompanied a friend who applied in VietJet. She said she has a six-figure salary plus a benefit package.
Parocha graduated from Patts Collage of Aeronautics in 2001 and Flight School International in 2005, where she took her flying lessons before earning her Commercial Pilot License (CPL), the second highest-level pilot license.
As a co-pilot in VietJet, she flies regularly to China, Korea, Thailand, Myanmar, Singapore and domestic flights to Ho Chi Minh, Hanoi and Danang.
—Rie Takumi/KBK, GMA News