THE Philippine Health Insurance Corporation (PhilHealth) recently signed a Memorandum of Understanding with the Design Center of the Philippines (DCP) for the redesign of PhilHealth's corporate identity elements that include the official logo icon, the colors, and applications in various formats.
PhilHealth President and Chief Executive Officer Alexander A. Padilla led the signing ceremony with DCP Executive Director Myrna M. Sunico at PhilHealth's main office in Pasig City.
Under the agreement, DCP commits to provide a new brand of communication concept for PhilHealth; develop a new brand manual and come up with communicative names for PhilHealth's member categories, among other deliverables.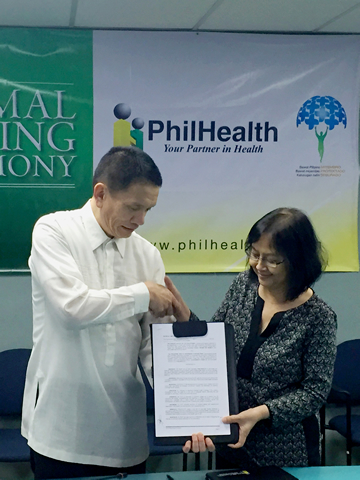 The DCP is a technical agency of the Department of Trade and Industry. By virtue of Republic Act 10557 or the Philippine Design Competitiveness Act of 2013, the DCP is mandated to"promote design as a creative tool for improving the quality, competitiveness and branding of Filipino products in the global market, as a strategic tool of value creation for sustainable economy growth and development; and an innovative tool for enhancing the quality of human life."
The PhilHealth Chief thanked DCP for its support by providing their design services at no cost to PhilHealth and at the same time offered help in return."Malaki ang inaasahan namin dito kasi we really need a new look or new branding. In whatever other help that we can offer not only to improve your work with PhilHealth but make it easier for you, just tell us," Padilla said.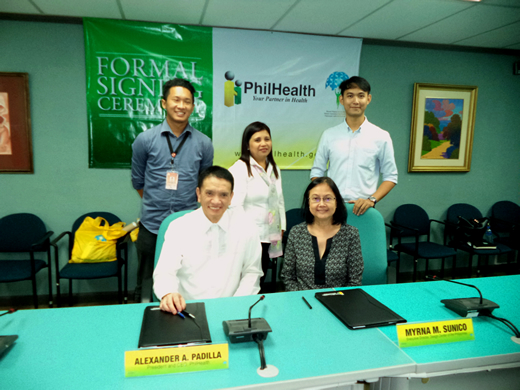 Padilla (seated left) and Sunico (seated right) pose with the DCP Graphics Division's creative team (L-R) Kendrick Tilos, Analiza Perez and Juan Carlo Crispino after the signing of the MoU.
Padilla is optimistic that through the partnership, PhilHealth will further strengthen its working relations with DCP as well as open possibilities for more collaboration with other government agencies in the future. (END)