San Francisco Bay Area Filipino American Democrats are jumping aboard the campaign to elect Hillary Rodham Clinton as the 45th President of the United States.
Eleven months from now, the US might finally join the Philippines, Sri Lanka, India, Germany, the United Kingdom, and Venezuela — among the nations once (or twice as in the case of the Philippines) or currently headed by a female.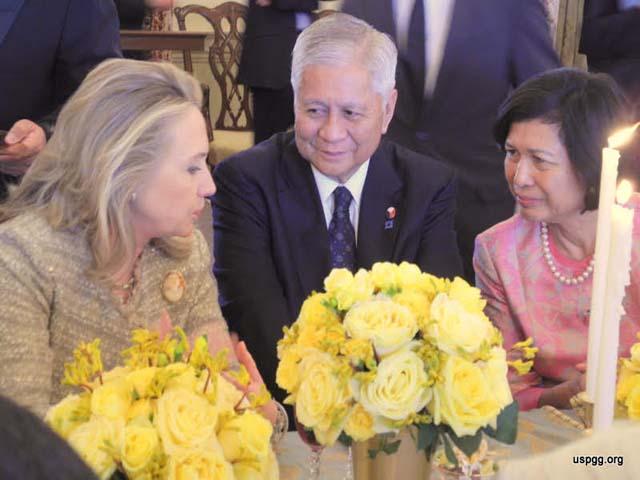 Democratic presidential front-runner Hillary Clinton has supported PHL and Fil-Am causes, says Loida Nicolas Lewis (right), who discussed the West Philippine Sea matter with the former US State Secretary and PHL Foreign Affairs Sec. Albert del Rosario at President Benigno Aquino III's 2012 visit to Washington D.C. Photo by LN Lewis
No thanks to the xenophobic rants of GOP presidential aspirants, but Clinton has always been favored by deep-blue Filipino Americans, particularly with during the presidency of Bill Clinton, according to Alice Bulos, a Fil-Am campaigner for Hillary since 2008.
With the "Godmother of FilAm Empowerment" homebound by health issues, her allies and adherents have stepped up to see their dream come true in November.
But first, Clinton, the former Secretary of State and before that Senator, will have to be officially nominated by the Democratic Party.
While Clinton's fellow-Dem Vermont Sen. Bernie Sanders is much-loved for his socialist leanings, he is deemed less than electable so that even his biggest fans are rooting for the Wellesley alum, mother, grandmother, lawyer and author - among Clinton's multiple accomplishments.
This week Fil-Ams are making sure their presence is seen and felt at the official launch of the Asian Americans & Pacific Islanders for Hillary 10 am, Thursday, January 7, in San Gabriel Valley — the giant sprawl in Southern California.
"Fil-Ams are now the second largest Asian American population in the USA," said Loida Nicolas Lewis, highest-profile Fil-Am Clinton endorser. "We support Hillary Clinton's bid for the White House because she fights for our interests and concerns: human rights, immigration reforms, access to quality education. Hopefully, she would also champion the rights of Sons and Daughters of American Servicemen abandoned by their fathers in the Philippines."
From her home base in New York, Nicolas Lewis applauded fellow Filipinos on the West Coast who are organizing for hefty representation at the Jan. 7 rally.
National Federation of Filipino American Associations and US Pinoys for Good Government are leading the FilAm delegations.
Rocio Casimiro Nuyda of U.S. Pinoys L.A. is coordinating area residents via
Aurora Cudal of NaFFAARegion 10 is in charge of organizing Filipinos from San Diego via aurorasorianocudal@gmail.com.
Artesia Mayor Pro Tem Victor Manalo is among the elected Fil-Ams who will be attending. A Clinton victory, he said, is a victory for all communities of color.
"I think we need to realize that in many instances, we all want the same things. We all want good educations, good jobs, and we want to be a part of the economic, social, political system in this country," Manalo said.
"And I think having Hillary as president, having a woman a president will give government a point of view that people need to be included and not be excluded and will help in seeing where the inequities are in our society," he added.
US Rep. Judy Chu, chair of the Congressional Asian Pacific American Caucus, underscored the significance of the minority vote.
"We need Hillary Clinton in the White House," said the Southern California-based legislator. "But how are we going to make this happen? We can only make it happen if the grassroots is activated, if the grassroots works hard in every sphere, in every corner of the United States."
San Francisco Bay Area residents will unite on the "HillabyBus," a coach that will convey them to and from Southern California.
USPGG Rodel Rodis is inviting those passionate about political empowerment to meet at 9 a.m. on Wednesday, Jan. 6, at the Pilipino Bayanihan Resource Center on 2121 Junipero Serra Blvd. to hop on the bus. They will be shuttled back to the same site the following day at 10 p.m.
The round-trip fare is $30 from Daly City and back. For more information, contact Rodel Rodis at 415.334.7800 or email Rodel50@aol.com. In Southern California, contact Rocio Casimiro Nuyda at rocion@msn.com or Aurora Cudal at aurorasorianocudal@gmail.com.
—Philippine News