SOUTH SAN FRANCISCO, California - Family, friends and colleagues said a reluctant goodbye November 9 to a longtime certified nurse assistant who died of a heart attack while on her annual pilgrimage in the Philippines.
Relizabeth "Lisa" Ramos Paulino, 51, was devoted to her family as she was dedicated to caring for patients at the A&C Convalescent Hospital in Millbrae, California, her employer for 15 years.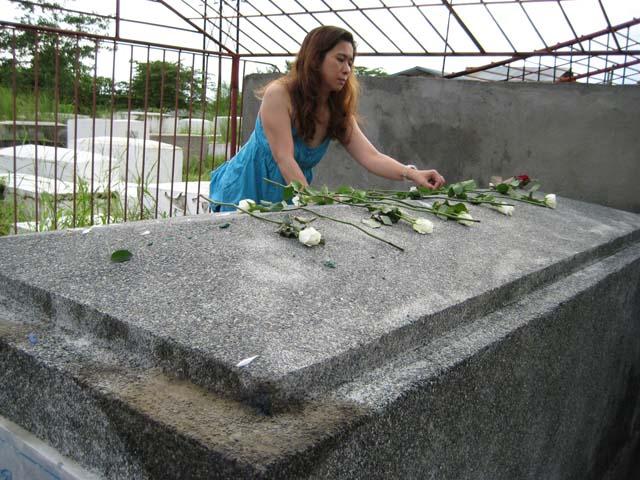 South San Francisco Lisa Paulino did not know her ninth annual trip to the Philippines honor her late father on his birthday would be her last. Photo courtesy of Ron Paulino
Since 2006, however, Paulino had been taking a break from everything to travel to Nueva Ecija in the Philippines to honor her late father Marciano Ramos Sr. on his birthday and All Saints' Day.
Last month, she fulfilled her vow for the ninth year, lighting candles and laying roses on her father's tomb shortly upon arriving in Cabanatuan City Oct. 23.
Days earlier Typhoon Lando had ravaged Central Luzon, inundating ricefields and flooding homes including the Ramos residence. The "balikbayan" did not think twice before joining relatives in mopping away the muddy remnants of the storm.
After the cleanup, relatives on Oct. 30 decided to take their US visitor on an excursion to a resort in Laguna, a couple of hours south of the disaster area.
The group's guest was going over her clothes when she felt ill and asked to sit and relax for a while. Moments later she collapsed and was rushed to a hospital, but it was too late.

Paulino's condition is not rare. She was among 43 million women in the United States affected by heart disease, according to the American Heart Association. Heart disease is the number one killer of women - one every minute - taking more lives than all cancers combined, per AHA statistics.
Though she was known to be taking medication for hypertension, her untimely death stunned and saddened her family, siblings and co-workers, who knew her as "Culot" or "Lisa," the youngest of three daughters and six sons born to Marciano Sr. and Lusaria Ramos.
"That's typical Lisa, ready and eager to help out anytime," QA engineer Ronald Paulino said of his wife after the Rosary led by his father Deacon Tony Paulino on the eve of the funeral.
By happenstance Deacon Tony and his wife Rose Paulinowere in Manila to mark the 40th day of passing of another relative. They sped to Laguna to help prepare for their daughter-in-law's repatriation to California as their son, who had stayed behind because of work in San Mateo, California, broke the news to their children who are in college in Colorado Springs and Las Vegas.
"We will cherish memories of her kindness and humility and her devotion to family and work," Lisa's bereaved husband told Philippine News. "She hardly said no when called upon to take a shift, evenings or weekends."
Relizabeth "Lisa" Miranda Ramos Paulino was born July 23, 1964 in Cabanatuan, Nueva Ecija. She was laid to rest Nov. 9 at Holy Cross Memorial Park following Mass at St. Andrew Church in Daly City. Twenty-one years earlier, she had walked down the same aisle to exchange wedding vows with Ronald Paulino.
She is survived by her husband and their children Arronand Valerie Paulino, and MJ Custodio, and her grandson CJ Custodio; her mother Lusaria Ramos and her siblings Rey, Romy, Rick, Remy, Riza, Boyet, McCoy, and Omar and their families, in-laws, countless friends, co-workers and current and former patients.
—Philippine News