A Filipino seafarer has been cited by the International Maritime Organization (IMO) in London for his bravery at sea after he rescued a distressed mariner last year "despite treacherous sea conditions."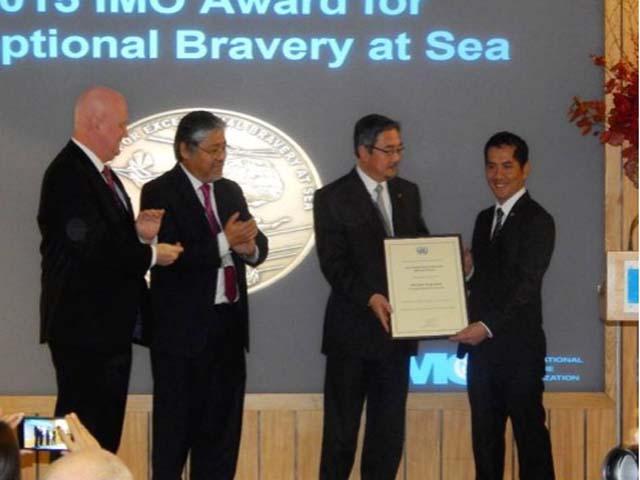 Pinoy seafarer Vicente Somera receives his certificate of commendation from IMO Secretary General Koji Sekimizu as PHL Ambassador to UK Enrique Manalo (2nd from L) and Australia Maritime Safety Organization CEO Mick Kinley look on. DFA photo
Vicente Somera was honored for rescuing fellow seafarer Steve Collins, who nearly died of hypothermia on August 31 last year after jumping overboard to retrieve a messenger line thrown to him by crewmembers of a passing ship.
At that time, Collins' vessel, Enya II, was having problems while he was on a solo voyage from Australia to New Zealand.
Somera, who was on board MV Lars Maersk, "used his own body to protect Collins from being crushed by the swinging ladder in between passing swells," the Department of Foreign Affairs (DFA) said in a statement.
"Several members of the MV Lars Maersk crew then ran down to assist the survivor up the vessel's side in an arduous climb up the accommodation ladder to main deck level, 20 meters above," it added.
In a simple ceremony, IMO Secretary General Koji Sekimizu handed a certificate of commendation to Somera "for his role in rescuing, in treacherous sea conditions, gale force winds and total darkness and after three challenging hours, a hypothermic sailor who had sustained several life-threatening falls attempting to repair an oil leak on his sailing vessel and who had jumped overboard in an attempt to retrieve a messenger line which had been thrown to him."
Aside from Somera, nine other individuals received commendations for various rescues at sea, although he was the only seafarer cited in this year's award, all the others being mostly crewmembers of rescue units.
The 2015 Exceptional Bravery at Sea Award was given to Aviation Survival Technician Christopher Leon of the US Coast Guard.
Philippine Ambassador to the United Kingdom Enrique A. Manalo, who is also the country's Permanent Representative to the IMO, witnessed the awarding ceremony.
"One can only be in awe of Mr. Somera's willingness to risk his life in order to save a human life at sea," Manalo said at the ceremony. "His actions are emblematic of Filipino seafarers' professionalism and dedication to their work." —KBK, GMA News