SAN FRANCISCO — Being wife of a diplomat, Cecile Gregorio Ascalon plays a supportive role to her husband Jaime Ramon Ascalon, Philippine Deputy Consul General in San Francisco and the western regions of the United States and Canada.
As a family counselor, however, she takes the lead in guiding individuals, couples and their loved ones toward healthy dynamics to attain caring relationships.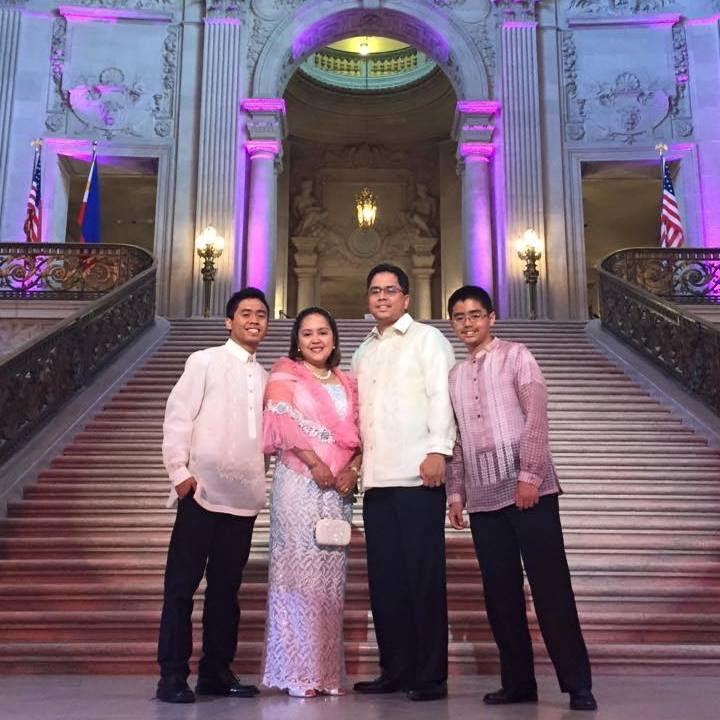 Cecile Gregorio Ascalon shares her husband Deputy Consul General Jaimon Ascalon's commitment to serve. Sons Jaime Martin and Andre Luis call her the 'best mom in the world.' Photo courtesy of Cecile Gregorio Ascalon
In September she joined ALLICE Alliance for Community Empowerment Kumares & Kumares to fulfill her desire to "help in the healing of family relationships, participate in the creation of just and compassionate societies and support the family in its struggle to deal with the challenges and stresses of modern life."
In November, she will head the Pilipino Senior Resource Center, a nonprofit providing social services to Filipinos in the South of Market area. Those services include health, housing and legal services as well as psychological counseling, case management and social engagement.
The post culminates Gregorio Ascalon's journey in the public service arena and she is beyond excited to take the reins on November 16.
"I feel that I could make a difference by creating an environment where the Filipino seniors would benefit from a wide range of health, education, recreation, and wellness programs," she told author.
"I hope to raise and enhance their sense of dignity and self-worth by inspiring and enabling them to be independent and be more involved in community activities. I also want to uplift their lives by improving the Center's services and information on aging. It will also be an emotional support system which will help reduce depression and loneliness."
The agency also will give its executive director opportunity to honor someone special in her life.
"'PSRC has a Breast Cancer Support Program... [that] is very significant to me because four years ago, my youngest sister passed away because of breast cancer," she shared. "I feel that I am called to increase and improve this program so that I can help save lives."
Last year Gregorio Ascalon expanded her service beyond the consular when she responded to then-West Bay (WB) Pilipino Multi-Service Agency executive director Rudy Asercion's letter to the University of the Philippine Alumni Association seeking a case manager for its Family Support Services Program.
The association's public relations officer applied and was offered the job offer the day she was interviewed.

Her credentials tailored her for the position: She holds a professional Diploma in Family Ministries (Family Spirituality, Psychology and Counseling) from the Ateneo de Manila School of Theology and a certificate of Clinical Apprenticeship in Pastoral Care and Counseling from the same institution's Center for Family Ministries.
Always keen on untapped talent, PSRC board president Jay Gonzalez, a professor at Golden Gate University and University of San Francisco and a former S.F. Immigrant Rights Commissioner, recently asked the yearlong manager if she would take on the top post of the Pilipino Senior Resource Center, a West Bay component.
Gregorio Ascalon will create policy, plan strategies, build resources and capacity, manage finances, hire and develop staff in close coordination with the board of directors of the oldest existing social service agency focusing on Filipinos in The City.
She is more than ready to answer the call of duty.??
Since arriving in San Francisco some five years ago, Gregorio Ascalon deepened her understanding of family dynamics by signing up for trainings with the San Francisco Family Support Network Developing and Sustaining Parent Advisory Committee and the San Francisco Parent Training Institute Positive Parenting Program Practitioners Accreditation.
Early this year she completed the Stanford University School of Medicine iSAGE web-based mini-fellowship for Successful Aging. Before that she trained in case management at the San Francisco Family Support Network.
As executive director, Gregorio Ascalon will draw on her communication skills honed as an undergrad in 1991 followed by some masters units in English at UP, where she met her now-husband of 19 years.
At home, Gregorio Ascalon had the ideal mentors.
"My parents are my role models," she named the two most influential people in her life. "They are very kind, generous, hard-working and very intelligent. They are both educators."
Her father, Prof. Martin V. Gregorio, was the Vice President for Administration and Secretary of the UP and Board of Regents. Her mother Lucille C. Gregorio was a Science Education Specialist of UNESCO in Bangkok.
They taught their children to be independent and unafraid to face challenges standing in the way of their pursuit of greatness.
"My father is an excellent leader and innovator and my mom is an epitome of human kindness," Gregorio Ascalon offered superlatives. "I grew up learning that I could make a difference in the lives of so many people and help in the creation of compassionate societies."
She recalled her father's frequent reminder: "If you have more than enough, share them with others."
"I will always acknowledge and thank my parents for who I am today," she said. "I have totally accepted my destiny. I believe that I have a calling... to help people improve their relationships with their families."
Evidence of her effective methods is the pronouncement of her sons Jaime Martin, 18, and Andre Luis, 12, that she is "cool" and in fact the "best Mom in the world."
Mothering involves the same skill sets she uses professionally along with practice of her faith.
"My parents have molded us in becoming good children of God," she said. "We are continually trying our best to make a contribution in our society. We only discover ourselves truly in relationship with others. Now that I have my own family, I appreciate the moral values my parents have taught me. I will impart these values to my children."
Equally mindful of her quiet but valuable contribution is the Filipina Women's Network, which named her one of this year's 100 Most Influential Filipinas in the World working behind the scenes to better the lives of others.
—Philippine News