Over 100,000 Filipinos have already cast their votes in the first 11 days of the month-long overseas absentee voting for the May 2016 elections, more than double than what was recorded in the last presidential elections over the same period.
Data from the Department of Foreign Affairs' Overseas Voting Secretariat (DFA-OVS) show that as of 12 noon of April 20, a total of 107,738 overseas Filipinos have already voted, significantly higher than the 47,373 recorded in the first 11 days of the overseas absentee voting period in 2010.
A graph from the DFA-OVS shows an increasing trend in the number of overseas Filipinos voting from the 2010 and 2013 elections.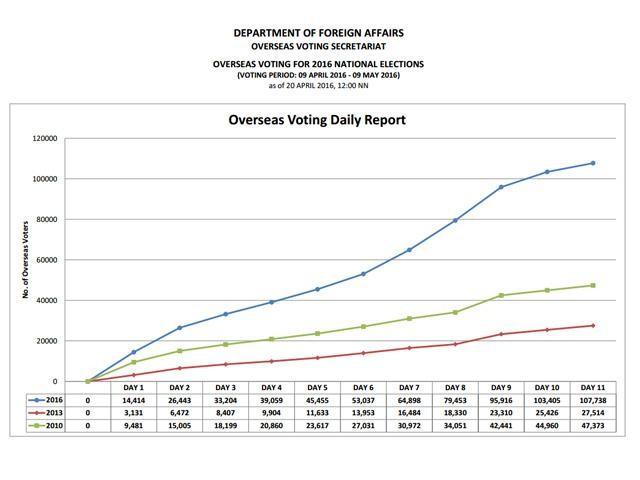 Of the 107,738 overseas Filipinos who have voted, 51,722 were from the Middle East, 41,395 were from the Asia Pacific, 11,278 were from Europe, and 3,343 were from the Americas.
Overseas absentee voting period for the 2016 elections started on April 9 and will last until May 9, election day in the Philippines.
A total of 1,376,067 overseas Filipinos registed for the overseas absentee voting, and the Commission on Elections is hoping for a 60- to 80-percent voter turnout. —KBK, GMA News
- See more at: http://www.gmanetwork.com/news/story/563386/news/pinoyabroad/over-100-000-pinoys-voted-in-first-11-days-of-oav-dfa-data#sthash.7bqoPseX.dpuf