Under the shade of a green ash tree, dozens of Filipino Americans prayed, chanted, and raised their voices celebrating the victory of the Philippines over a UN decision rejecting China's wholesale claim over the South China Sea.
"You're wrong, China," CEO and philanthropist Loida Nicolas Lewis taunted Beijing in a rally on July 12 in front of the United Nations building on First Avenue. She said a cluster of islands under dispute, called the West Philippine Sea, belongs to the Philippines "and we have the rule of law (behind us)."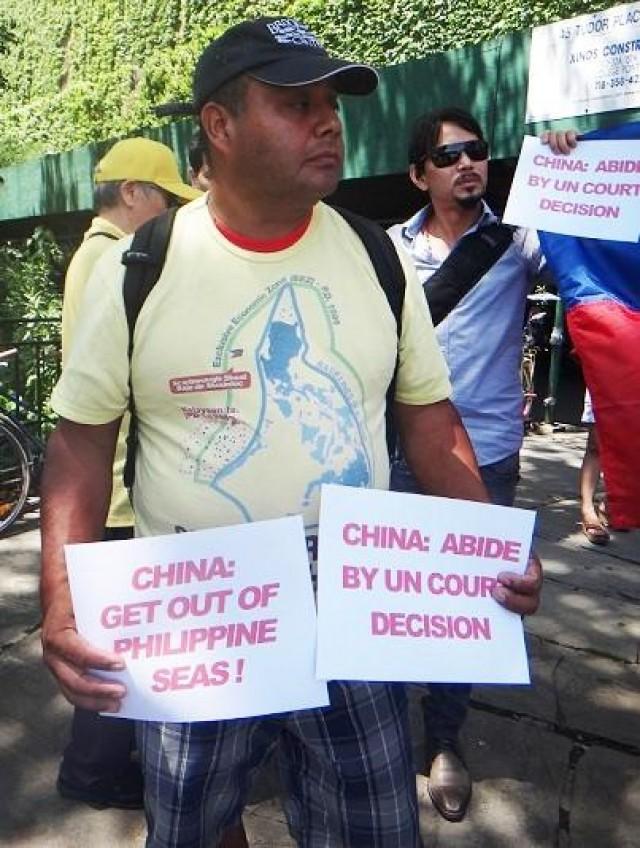 Message to China: Get out! The FilAm photo
"Today is a day of victory for the Philippines," she declared before nearly 50 rallyists.
In its ruling, the Permanent Court of Arbitration in The Hague upheld the 1982 United Nations Convention on the Law of the Sea and rejected China's claim of historic rights over the South China Sea.
The Philippines has maintained that the West Philippine Sea – which comprises the Luzon Sea; the Kalayaan Group of Islands in Palawan, and the Panatag Shoal—is part of its exclusive economic zone.
With this decision, "we now have the right to fish, the right to develop the resources, and we are open to joint development 60-40, according to the Philippine Constitution," said Lewis, a lawyer and a prominent community leader in New York.
Lewis hailed former President Benigno Aquino III, whose government initiated the arbitration case before the UN in 2013. She also praised President Rodrigo Duterte for his willingness to "open negotiations" with the Chinese government on how the two countries should proceed bilaterally following the UN decision.
"We're extending the hand of friendship to China," she said, "Let's talk, (let's) not go to war." She said China can easily defeat the Philippines with its warships. The Philippines has nothing but "worship and prayer," she added.
She said Foreign Secretary Perfecto Yasay should not be denounced as a "traitor" for earlier statements he made where he said Manila was "open to sharing" resources with China whatever the UN decision would be.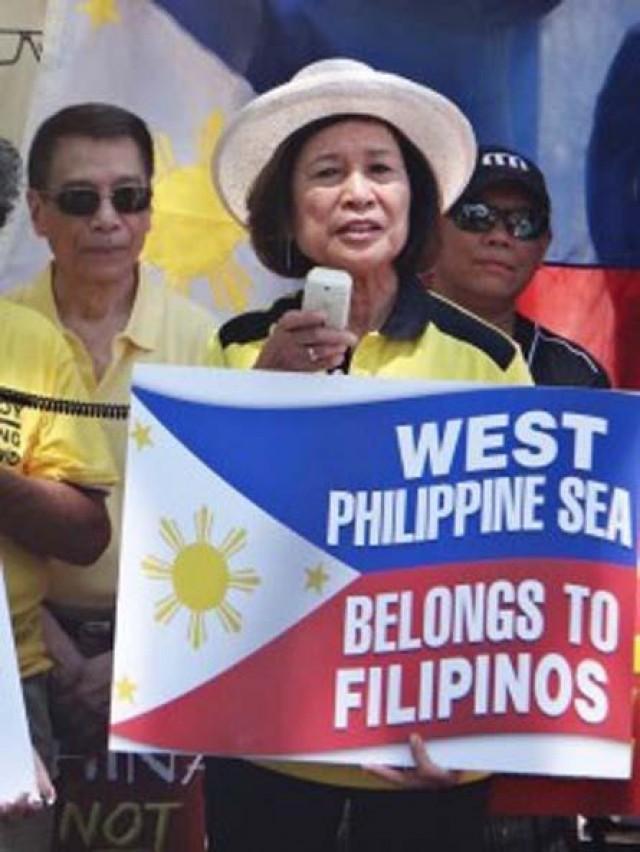 Rally leader Loida Nicolas Lewis: 'We have the rule of law behind us.'The FilAm photo
"He is not being a traitor; he is a diplomat," said Lewis explaining how the Duterte government is open to having a "conversation" to work things out with China.
Historian and China expert Orville Schell said there are two ways Beijing could go in the aftermath of the UN ruling.
"It can either adjust course and seek accommodation with various claimants in these maritime disputes that have put it at odds with not only the Philippines, but with Vietnam, Malaysia, Brunei, and now even Indonesia, or it can double down and become even more obdurate," said Schell, who is currently the Arthur Ross director of the Center on U.S.-China Relations of the Asia Society. His statement was sent to The FilAm.
But China, he said, may be "trapped by its own conviction that disputes involving the question of Chinese sovereignty are never negotiable." Should Beijing continue to remain firm, Schell warned China's neighbors and the U.S. "must be ready for a much more rigid, even belligerent, Chinese posture."
The demonstrators recited the Lord's Prayer and sang patriotic songs "Bayan Ko" and "Ako ay Pilipino" during the rally. They held up placards that read, "China, get out of Philippine seas" and "China, do not be a rogue state." Some of them believe China should "Chexit," an obvious pun on Britain's pending departure from the European Union or Brexit. —The FilAm