Filipino workers affected by the cost-cutting measures of Saudi Arabia-based construction companies can now avail of the financial assistance being extended by the government.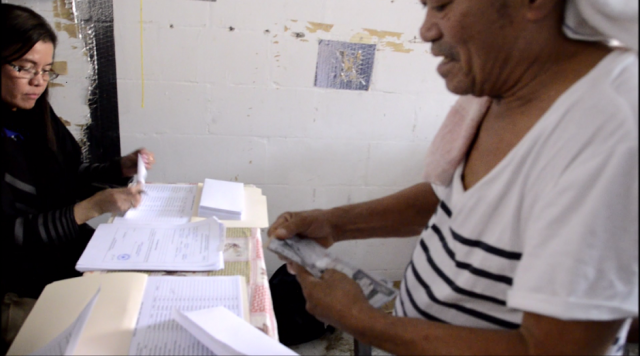 Edmundo Torreverde, a retrenched OFW in Saudi Arabia, claims the cash assistance offered by the government to Filipino workers affected by the cost-cutting measures of construction companies there. Ronaldo Concha
According to the Overseas Workers Welfare Administration (OWWA), it has begun releasing the financial assistance to affected OFWs in Saudi Arabia and their families in the Philippines under the Relief Assistance Program (RAP).
Under the RAP, repatriated Filipinos or Filipinos who are still at the jobsites in Saudi Arabia but have yet to receive their salaries or end-of-service benefits will receive cash assistance of P20,000 and P6,000 for their families.
Qualified to avail of the RAP are affected OFWs employed by the following companies:
Mohammed al-Mojil Group (MMG);

Saudi Bin Laden Group of Companies (SBG);

Saudi Oger Ltd. (SOL);

Mohammad Hameed Al-Bargash & Bros. Trading & Construction;

Aluminum Company (ALUMCO L.L.C.);

Rajeh H. Al Merri Contracting Company;

Arabtec Construction L.L.C.;

Real Estate Development and Investment Company
The cash aid — promised by Labor Secretary Silvestre Bello III during his visit to Saudi Arabia last month — will be distributed by the Philippine Overseas Labor Offices (POLO-OWWA) in Riyadh, Jeddah and Al-Khobar.
"On the other hand, qualified workers already repatriated back to the Philippines as well as the families of those still at jobsite may claim their respective financial assistance through the OWWA Regional Welfare Offices nearest their residence here," the OWWA said.
Officials of POLO-OWWA and Philippine Consulate General in Jeddah visited the campsite of Advance Vision of the Saudi Bin Laden Group to distribute the cash aid on Friday.
The officials were met by joyous OFWs, many of whom have been staying at their jobsites without pay since late last year.
A beneficiary named Wendell, a former teacher in the Philippines, said the financial assistance will help him mend his relationship with his wife, who almost left him after his company stopped paying him and his colleagues months ago.
"Duon po ako kumukuha ng lakas ng loob sa aking pananampalataya sa Panginoon," he said.
Marlon Gatdula of Migrante-KSA said it would be "unfair and divisive to the OFWs and their families" to limit the scope of RAP as it excluded a majority of workers who are undocumented or had their iqamas expire.
"If active OWWA membership is a pre-requisite, close to none will be able to avail," he said. —Rie Takumi and Ronaldo Concha/KBK, GMA News