A Filipina Navy officer has been recognized as best international student during a passing-out parade at the Britannia Royal Naval College, the initial officer training establishment of the British Royal Navy, in Dartmouth, United Kingdom.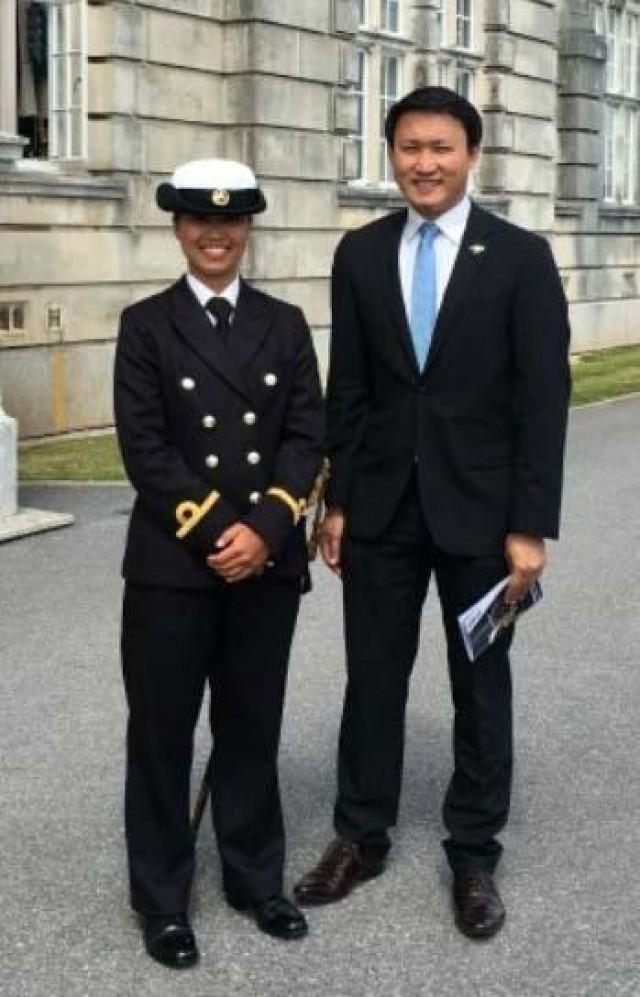 Philippine Navy Ensign Maycee Angga with Consul Rommel Romato at the BRNC Passing-Out Parade in Dartmouth, England. DFA photo
A news release from the Department of Foreign Affairs (DFA) said Philippine Navy Ensign Maycee Angga bested 131 other naval officers from the UK, Albania, the Bahamas, Egypt, Libya, Qatar, the United Arab Emirates, and Ukraine.
Angga, the only female international student in the batch, became the first Filipino to attend and complete the 30-week training course at BRNC under the support of the Philippine Navy and the UK Government.
She is also one of the 10 out of 20 foreign students who made it to graduation.
The intensive training course that started January 4 included a study visit to France and a three-week ship acquaint where Angga was assigned to HMS Bulwark, an amphibious assault ship operating in UK waters.
The DFA said Consul Rommel Romato represented the Philippine Embassy during the passing-out-parade held on August 11. He conveyed to her the congratulatory message of Philippine Ambassador to the UK Evan Garcia.
BRNC was established in 1863 in Dartmouth, England, as the initial officer training establishment of the British Royal Navy. Majority of its cadets come from the Royal Navy, the Royal Fleet Auxiliary, and naval organizations from foreign and Commonwealth countries. —KBK, GMA News