PhilHealth OIC, Executive Vice President and Chief Operating Officer Johnny Y. Sychua opens the meeting by reiterating that the POC was implemented to provide PhilHealth coverage for the poorest of the poor who were not included in the National Household Targeting System for Poverty Reduction (NHTS-PR).
AN inter-agency meeting was recently held to discuss how the Point-of-Care (POC) enrolment mechanism for less privileged Filipinos who are admitted in health care facilities but who are not yet members of the Philippine Health Insurance Corporation (PhilHealth), will transition into a more defined system of paying for social health insurance coverage.
The meeting was initiated by PhilHealth to set in place the guidelines for the implementation of the forthcoming coverage system called Point of Service (POS). Present during the meeting were officers from the Departments of Health (DOH), Budget and Management (DBM), Interior and Local Government (DILG), and Social Welfare and Development (DSWD).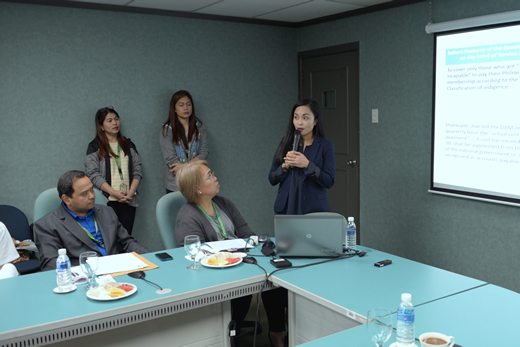 Mae Dizon, OIC-Vice President for Member Management Group, discusses the salient features of the POS, one of which is the availability of PhilHealth benefits to POS enrollees when confined in a private hospital so as long as a referral is secured from a National Government facility.
The POS is envisioned to replace the POC program as the medium through which PhilHealth grants access to quality health care benefits to Filipinos incapable of paying for their health insurance premiums. It will facilitate benefit availment at point-of-service especially for those who do not have the means to pay for health services.
The General Appropriations Act of 2017 allocated the sum of P3 billion to set the POS into motion. Under the program, financially-incapable individuals will be granted PhilHealth coverage once they pass the DOH classification on indigence. In this scheme, PhilHealth shall bill the DBM, on a quarterly basis, the actual cost of the hospitalization chargeable against the appropriated amount. (END