The courage and bravery of the 44 Special Action Force (SAF) members who were killed during an operation in Mamasapano, Maguindanao, in January 2015 have touched not only their countrymen in the Philippines, but also Filipinos abroad.
Take UAE-based Rosette John Balanay, who, along with his band Up the Ante, was so inspired by the SAF 44 that he penned a song about them.
In an email interview with GMA News Online, Balanay described the song "Fallen" as "a song of bravery and loyalty to our motherland."
Perhaps it will not come as a surprise, as Balanay came from a family of soldiers and policemen.
"From my mother's father, Maj. Aurelio Cabilla, to my uncles, hanggang sa pinsan ko who has just graduated from the Philippine National Police Academy," shared Balanay, Up the Ante's vocalist.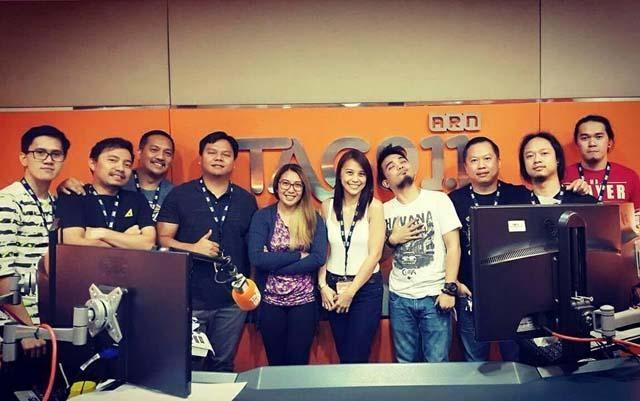 Members of Up the Ante with TAG 91.1 DJs during the band's guesting. TAG 91.1 is the first Filipino radio station in the UAE. Photo courtesy of Rosette John Balanay
Though he was the one who wrote the lyrics to the song, Balanay said "Fallen" was a team effort.
"I wrote it but it was John Mark's idea. He was also the one made the riffs and melody with the help of John Magno," he said, referring to Up The Ante's band leader and former bassist, respectively.
The song was written three months after the infamous Mamasapano clash, which up to now has been the subject of too much political controversy, while family members of the slain policemen continue to cry for justice.
Asked on his view on the matter, Balanay said he doesn't think "fallen soldiers [sic] are getting the justice they deserve."
"But I don't want to discuss further about what the government (past and present) is doing for this case. I am no expert. All we want is to honor those who are risking their lives to protect us," he added.
Balanay said the song has gotten positive feedback from listeners. "Some guys love the song especially when they come to understand the story behind it," he said.
Recently, coinciding with the release of its latest music video for "Until My Lung Give Out," Up the Ante was invited for a two-part radio interview by TAG 91.1, the first Filipino radio station in the UAE.
During the interview, the band was able to play acoustic versions of their songs plus covers. "Fallen" was one of them. —KBK, GMA News