As learning is an endless process, many Filipinos, in their quest to advance their studies, have decided to walk the extra mile — by getting a degree abroad. It's not an easy endeavor.
Aside from homesickness, these brave Filipino students also have to deal with a different culture, to the point where concentrating on their studies becomes more difficult than it should. And as studying abroad isn't cheap, some have to live the life of a working student in another country.
For Jonathan Ruiz, a student at Hult International Business School in London, being a working student is like hitting two birds with one stone — aside from income, his job allows him opportunity to learn and understand his host country's culture.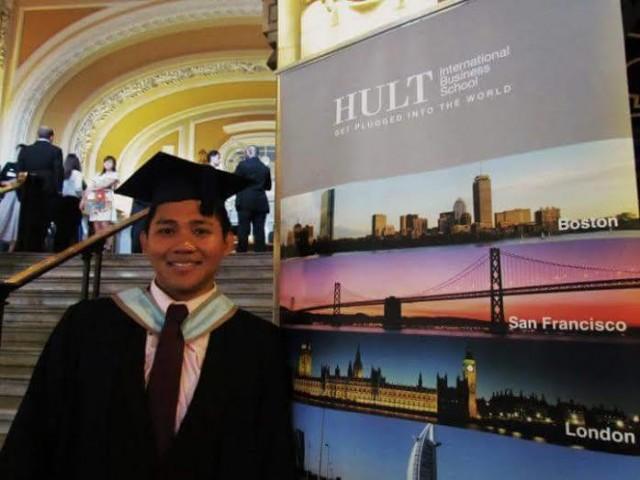 Jonathan Ruiz, 31, a student of Hult International Business School in London.
"I worked as a dishwasher during weekends in restaurants and pubs to learn their language and understand their culture," said Ruiz, 31, via email. "I became a chef and was able to cover other expenses for curricular activities and projects."
Ruiz already graduated Accountancy at the Lyceum of the Philippines University in 2007. Today, he is the highest-ranking executive of an online learning platform about the stock market, the PAM Academy. He has nothing but good words about London and his life there as a student.
"London is a great place to study because of the diverse and multicultural environment," he shared. "They focus on teamwork and real-life experiences. Our professors are from different countries and world-class universities such as Harvard and London Business School."
He added: "Support groups and mentors are easily accessible. Students are encouraged to speak out and present their ideas. It's a once-in-a-lifetime experience that is more than a diploma. I developed a global mindset, worked as a team player, and learned business skills."
Terence Oliver Rivera, 32, product yield enhancement engineer in Micron Semiconductor Asia Singapore, has also learned how to do things differently since studying abroad, including the way he speaks the English language.
"The way they construct ideas is based on their culture. This is the same with how they speak. Sometimes speaking proper English might confuse them. So, normally, I construct my sentences based on how they also do," he shared via email.
"I also engage with them pro-actively. I personally come to them and make some efforts to connect to them," Rivera added.
Although already a BS Computer Science graduate at the Cavite State University, Rivera still enrolled in Awaken Generation, a music school in Singapore, upon seeing its advertisement in Facebook. He is now on his first year.
"I didn't have formal education in music back in the Philippines. Everything I learned is through experience when I'm still in the Philippines playing in a band. [So] I decided to enroll in this school to become more effective in mentoring volunteers in our church," he said.
Rivera said he decided to study in Singapore "to grasp different perspective of other cultures and see how they do things. These will enable me to have a wider view and perspective in different matters."
The situation is a little different for Grachelle Anne Guei, 23, phlebotomist at Madar Medical Center. She was born in Qatar and studied at the Philippine School Doha till she turned Grade 3.
"Nung nasa Qatar ako, walang adjustment kasi dun na ako nagkaisip. Yun na yung nakasanayan ko na environment. Hindi ko naman kinailangang matuto mag-Arabic kasi it's either English or Tagalog ang language," Guei said.
Adjustment to Guei happened when she went to the Philippines where she enrolled at the La Immaculada Concepcion School and La Consolacion College.
"Mas nag-adjust pa ako nung umuwi ng Pinas kasi ibang-iba yung surroundings," said Guei, who has since moved to the United Arab Emirates (UAE) where she enrolled at the Global English School before pursuing college at the Centro Escolar University (CEU) back in the Philippines.
"Pag nasa ibang bansa ka, mas mahahasa yung skills na meron ka. Dati kasi sa Global English School, nagpe-perform kami sa school musical play," Guei said.
"Sort of asset na rin that I have studied in Qatar, Philippines, and UAE, kasi dagdag na din siya sa experience na you have to adjust to different nationalities and get along with them. Kagaya sa work ko ngayon, hindi na siya malaking adjustment sa akin," she added.
For her part, Dr. Ma. Regina M. Hechanova, professor in the Department of Psychology of the Ateneo De Manila University, said there is nothing unpatriotic if a Filipino student decides to further his or her learning in another country.
"In a world that is becoming very global, studying abroad provides students a number of advantages and makes them competitive," she told GMA News Online via email.
"I wouldn't necessarily say they are unpatriotic because you can love your country but still study abroad," Dr. Hechanova added.
She noted that some Filipino students believe they could appreciate the Filipino culture more when they have had a chance to experience another culture.
"Cultural intelligence is an advantage for those who want global career opportunities. An important way to develop CI is to obtain cross-cultural experiences. This is the advantage of those who are able to get education in another culture," she said.
"However, it is also important that students take full advantage of their experience by interacting with people of different cultures and getting to know more their host culture," Dr. Hechanova added. —KBK, GMA News