SAN JOSE, California — Before night fades into dawn, a truck ends its trek at a residence in this southern tip called the "Peninsula" of the San Francisco Bay Area, where a cluster of vans have been waiting for its precious cargo. Crews of two or four males — all related by blood or marriage — hoist up crates of previous hours' haul into their vehicles for their weekly destinations across the fertile landscape.
In the darkness, the truck's contents are imperceptible. But the air — cool and dry in earliest autumn — conveys a complex fragrance born of the earth and the sun, promising beauty and purity.
Roger Cruz revels in the voluptuous aroma of the season's last heirloom, Early Girl and grape tomatoes mingling with the tangy whiff of young bell peppers. He likes the feel of soil caking the roots of the multicolored carrots, rainbow chard, red and white onions and bottoms of the kale and lettuce. The scents and sensations remind him of his fortune — this earthly bounty from Reedley in Fresno County here in California — that he shares with his family and helped fund the education of his daughter Leah and son Ron.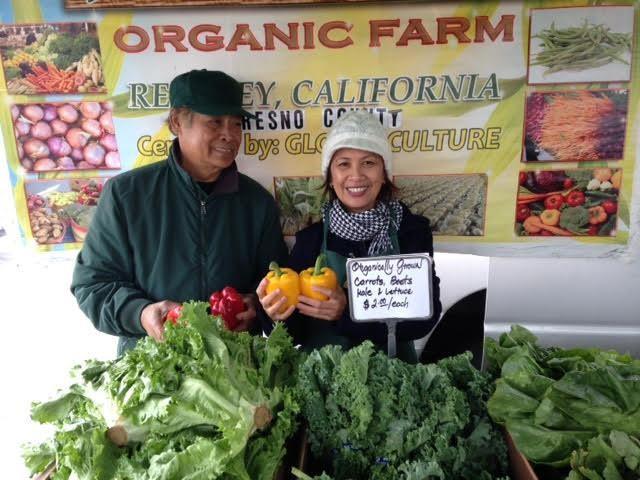 Roger and Leonora Cruz with their organic harvest. Photo by MZ Moreno
Daylight caresses Cruz as his drive winds down to a halt in Daly City, where his J&M Ibarra Organic Farm stall draws regulars and newbies seeking farm-to-table alternatives to fruit and vegetables from "factory farms" — pejorative for corporate enterprises that tend to favor appearance and size over taste, whose high volume production allows low prices.
National Public Radio in 2014 counted 8,268 farmers' markets in this country. Ibarra is one of 2,805 organic farms in California cited in a US Dept. of Agriculture survey. But it is one of maybe a couple of organic farms at the Saturday Farmers' Market at Serramonte Center.
Crowds at the Daly City market and elsewhere across the country show a growing appreciation for family farms and local produce — that originating within 100 miles of home. University of California Berkeley journalism professor-turned-responsible food advocate Michael Pollan furthered the cause of organic farming and socially conscious provenance. Once associated with the hippie culture, organic food has penetrated the mainstream. And much to the joy of Cruz and his wife Leonora, who immigrated from the Philippines in the middle 1980s.
"Roger's sister was married to a clan that owned 200 acres of agricultural land," Leonora Cruz, a real estate broker, shared her clan's roots. "Every weekend seven vans of relatives gather and divide the produce to take to their respective markets."
The Cruzes beam with pride as shoppers throng over their crates minutes before 1 p.m. closing. Fellow Filipinos seek out "Manong," as they call Roger, engaging him in their common Ilocano or Tagalog.
Ron Cruz's charm compensates for his inability to speak his parents' native language, making the recent honors grad from high school a hit among the diverse patrons. Already a licensed insurance agent working to earn his real estate license, he assists his dad every Saturday, explaining to non-Asians that tough-skinned cabocha is as delicious as pumpkin, or suggesting mint to spike a hot or iced tea. In the summer, his sister Leah helps out while on break as a music therapist.
Roger Cruz vows that nothing touches his crops but water and human hands. In his family's case, at least three generations that honor the legacy of pioneer Filipino immigrants hired to tend the fields of Hawaii and the farms in California. —Philippine News