For presenting outstanding medical research papers, two Filipino physicians were honored during a medical conference in Vienna last month, according to the Department of Foreign Affairs in a news release Monday.
The two — Dr. Angelica Barrenechea and Dr. Irene Bandong — won awards at the International Conference on Integrated Medical Imaging in Cardiovascular Diseases held at the International Atomic Energy Agency (IAEA) from October 10 to 14, the DFA said.
Barrenechea won an award for her research work while Bandong received the World Federation of Nuclear Medicine and Biology Award from IAEA Deputy Director General Aldo Malavasi.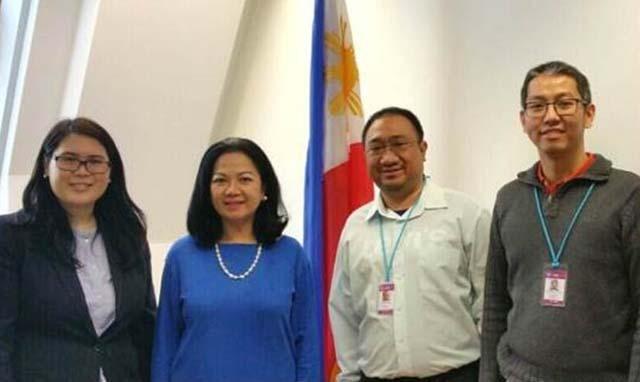 From left: IMIC awardee Dr. Barrenechea, Philippine Ambassador to Austria Maria Zeneida, Angara Collinson, Dr. Quiñon, and Dr. Ongkeko. DFA photo
The two were among the eight Filipino physicians from different medical centers in the Philippines who attended the conference, the DFA said. Barrenechea was from St. Luke's Medical Center while Bandong was from Seamen's Hospital.
The IAEA is an international organization with a mandate to promote "atoms for development," and supports countries in using nuclear and nuclear-related techniques to fight cardiovascular diseases, cancer, and malnutrition.
The DFA said the IAEA organized IMIC 2016 to highlight the use of nuclear techniques to address cardiovascular diseases.
The World Health Organization estimates that annual deaths due to cardiovascular diseases will reach up to more than 23 million by 2030.
The six other Filipino physicians who attended the event were Dr. Lucille Puracan and Dr. Eduardo Erasto Ongkeko, who were also from St. Luke's Medical Center; Dr. Mary Grace Vargas and Dr. Angelin Apostol from the Philippine Heart Center; Dr. Amalia Casiño of Northern Mindanao Medical Center; and Dr. Alvin Quiñon of Capitol University Medical Center.
"At the sidelines of the conference, poster review sessions were held where the participants, including the Filipino delegates, presented their respective nuclear medicine research papers to nuclear medicine experts," the DFA said.
"A total of 180 entries were evaluated and the works of the two Filipino physicians were chosen," it added. —KBK, GMA News