Relatives of the late Eudocia Pulido or Lola Cosiang, the "slave" referred to by Pulitzer Prize winning journalist Alex Tizon in an article for The Atlantic, were hurt after reading about the abuses she suffered.
In the said article published in the magazine's June issue, Alex wrote about the hard life Pulido or "Lola" had for 56 years with the Tizons, something they kept a secret for decades.
At 18 years old, Lola was given to Alex's mother by his grandfather, Lt. Tom Asuncion. The family brought her with them to the US when they migrated.
Alex wrote that Lola was not paid for her services for the Tizon family, had no room of her own, slept wherever she could, ate leftovers, was verbally abused, and was not allowed to go home to the Philippines when her parents passed away. For many years, she was also a TNT ("tago ng tago" or undocumented alien) after her papers expired after the first five years of her stay, and she rarely went out of the house.
Only in October 1998 did Lola's stay in the US become legal when she became a US citizen after Alex and his siblings worked on her papers.
Pulido's niece Nanay Lolita and granddaughter Emilia told GMA's Jessica Soho in an interview for Kapuso Mo, Jessica Soho aired Sunday that it hurt so much to read that their Lola Cosiang suffered much.
"Masakit 'yung sinabi ni Alex na kung saan-saan na lang nakakatulog si Lola dahil sa pagod. Masakit rin 'yung sinabi niya na tira-tira na lang 'yung kinakain ng Lola. Pinakanaiyak ako 'yung sinabi niya na nakakatulog daw si Lola habang nagtutupi ng mga damit," they said.
"Kawawa lang talaga 'yung Lola namin kasi ginanon nila," they added.
"Nagulat kami, nagalit siyempre kahit papaano kasi nalaman namin 'yung nangyari sa Lola," they said.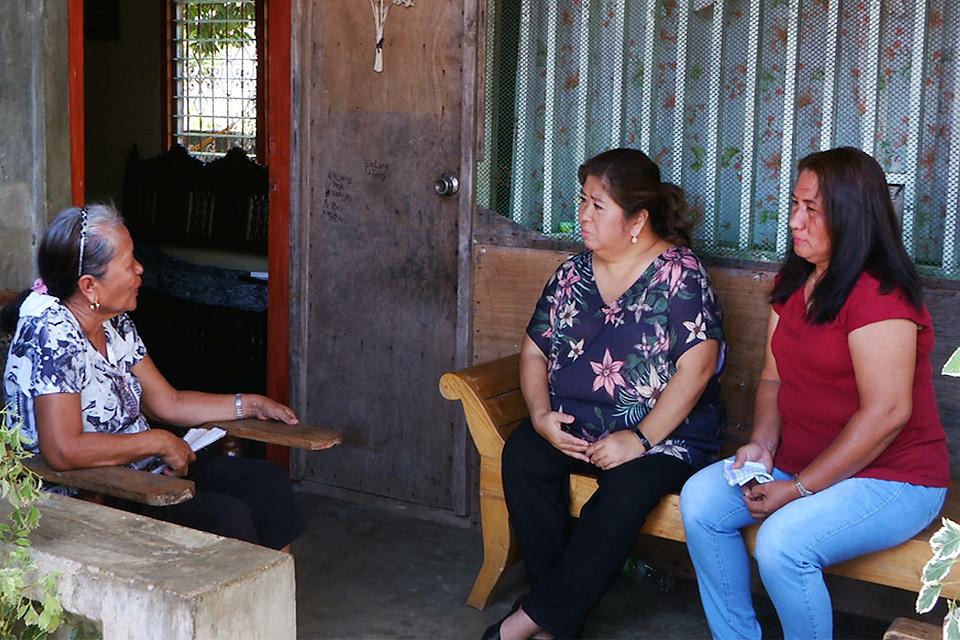 Lola's relatives Nanay Lolita (left) and granddaughter Emilia (right) speak to GMA's Jessica Soho in Tarlac. Kapuso Mo, Jessica Soho
Promised a better life
Lola has only one surviving sibling left, Nanay Gregoria, who is 99 years old. She stays in San Bartolome in Mayantoc, Tarlac and could not recognize people anymore, according to Nanay Lolita and Emilia.
To her relatives, Lola Cosiang was strict. If she told them to do something, they have to obey, Nanay Lolita and Emilia said.
They also clarified that Lt. Tomas Asuncion was a relative, the first cousin of Lola.
Lola Cosiang was promised a better life and she will be able to send money to her family, so her relatives agreed for her to go to the US with the Tizons.
However, since Lola left for the US, they were not able to talk to her. It was Alex's mother who wrote for Lola, but her relatives were not sure if those were really Lola's words.
Lola was also not able to send them any money as promised.
They all thought Lola forgot all about them until she arrived in the Philippines in 1989 after 25 years.
This was followed by two more trips in 2008 and 2010.
"Noong pag-uwi niya, namasyal kami. Naging masaya. Napagkuwentuhan 'yung buhay niya sa Amerika," Nanay Lolita and Emilia said, but added that Lola never mentioned anything about the hard life she lived abroad.
"Buong akala namin, okay siya. Pero ayun pala hindi. Kaya noong nabasa namin 'yung article, umiyak kaagad kami," they said.
Lola's ashes
After Lola died of heart attack in 2011 at 86 years old, it took Alex five years before he went to Mayantoc bearing Lola's ashes and clothes.
"Mahirap. Five years after nung pagkamatay niya bago siya dinala dito ni Kuya Alex. Naka-box lang siya no'n. Pero tinulungan naman kami ni Kuya Alex. Siya nagbayad sa paglilibingan ni Lola," Nanay Lolita and Emilia said.
Asked if they plan to do anything to seek justice, they said: "Ano pang magagawa namin eh wala na si Lola. Kahit ano naman 'yung gawin pa namin, tapos na."
Regrets
"Lola was treated very poorly by Alex's parents and by Alex's grandfather," admitted widow Melissa. "That's the thing that Alex struggled with his whole life."
Melissa added that Alex and his brothers and sisters were very upset about how their parents treated Lola, and there was a lot of tension in the Tizon household because of it.
"I wish Lola could've spent more time with them (Lola's family in the Philippines)," confessed Melissa. "It's just so heartbreaking to me that she didn't get to spend more time with her family, and didn't get to support them the way that she thought, the way Alex's parents promised that she would."
"We are all very, very sorry about everything that happened," she lamented. "I mean it's tragic, very tragic."
In a
Facebook post
on Tuesday, Melissa said Lola's story was one Alex said he was born to write. It was Alex's final story.
—KG, GMA News