THE Philippine Health Insurance Corporation (PhilHealth) brings its services closer to the public once again through the Pinoy Tsuper Hero program.
Pinoy Tsuper Hero is a program for Filipino drivers initiated by Phoenix Petroleum in cooperation with ABS-CBN's Lingkod Kapamilya Foundation and Bayan Academy for Social Entrepreneurship and Human Resource Development, Inc.
Aside from encouraging drivers to be mindful of the environment and be responsible motorists, the program aims to boost the morale of public utility vehicle (PUV) drivers by providing an opportunity for them to gain access to social services.
"Na-realize namin na maraming drivers ang hindi alam ang kanilang social benefits (We realized that several drivers are unaware of the social benefits available to them)," says Bayan Academy Executive Director Philip Felipe when asked why they tapped PhilHealth to partner with them.
According to Felipe, the Pinoy Tsuper Hero program is a good avenue to serve these PUV drivers who, due to the nature of their work, find it inconvenient to visit government offices.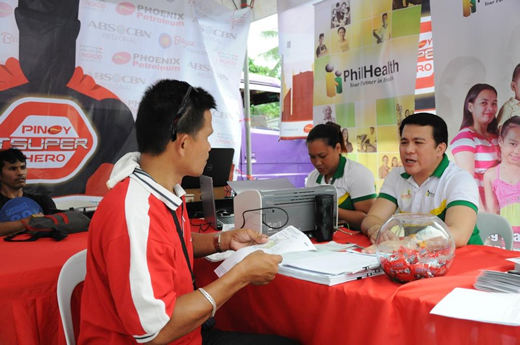 Alindajao was able to declare his three mionor children as dependents without having to pay additional premium
After the success of their program in the previous years, this 2017 which is the third year of the Pinoy Tsuper Hero program, Bayan Academy invited PhilHealth once again to partner with them in delivering services to PUV drivers in 22 sites all over the country.
During the two-day activity in Cebu City, over 600 drivers flocked to Phoenix Petroleum at Sitio Tintay to avail themselves of freebies from the gasoline station, as well as the services of PhilHealth.
A number of them were already registered members of PhilHealth and took the opportunity to verify their membership record. Some grabbed the chance to register on the site. One of them is Alex Alindajao who has been a professional driver for 17 years. Upon hearing through the radio that PhilHealth has a booth in the area, Alindajao said he went straight to Phoenix Gasoline Station to register.
"Dugay na gyud ko ganahan magpa-member pero di man ko makalugar og adto sa PhilHealth office (For a long time now I have wanted to become a member, but I couldn't find the time to go to a PhilHealth office)," shares Alindajao.
As principal member, he was able to declare his three minor children as dependents without having to pay additional premium. His qualified dependents will be able to avail themselves of the same benefits available to him as member.(END) (Dina Marie P. Cinchez, Public Relations Officer B)