A total of 35 Filipinos will pursue MA and PhD programs in different universities in Europe after they won scholarships under the European Union's Erasmus+ Program in the coming weeks.
This, as the Philippine government continues to assess the possible effects of the United Kingdom's withdrawal of membership from the EU to Filipino scholars pursuing studies in UK territories.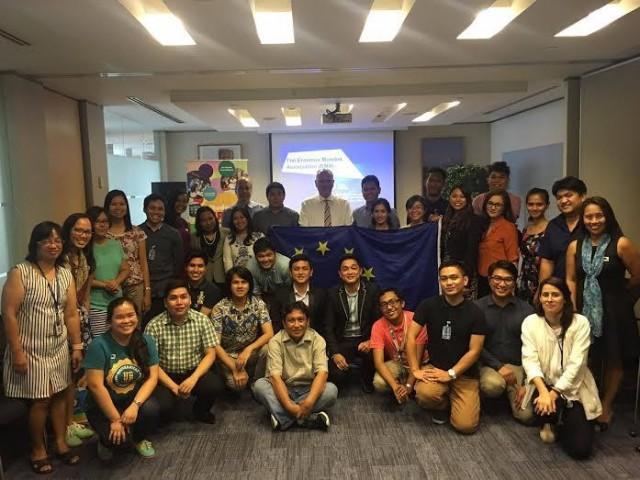 EU Ambassador Franz Jessen together with Mr Mattias Lentz, Minister Counsellor, Delegation of the EU Delegation to the Philippines and Erasmus+ alumni pose with outgoing Erasmus+ scholars who shall study throughout the European Union in the coming months during a reception held last 27 June at the EU Delegation office in Makati City.Photo courtesy of EU Delegation to the Philippines
"We don't have the answers to all the questions at this point. Hopefully, things will become clearer in the coming days as people start to grasp the full implication of UK's exit from EU," said Foreign Affairs spokesperson Charles Jose on Wednesday.
GMA News Online tried contacting EU's office in the Philippines for its comment, but it has yet to respond as of posting time.
According to a statement from the European Union's Delegation to the Philippines, the 35 students were briefed by EU Ambassador to the Philippines Franz Jessen in a reception held June 27 on their responsibilities as Erasmus+ scholars.
Jessen said Erasmus+ scholars must strive to "become ambassadors of goodwill and agents of change to help strengthen the partnership between the EU and the Philippines."
He also urged the scholars to return to the Philippines after their studies to "give back to their country".
The Erasmus+ scholarship allows scholars to pursue their studies in more than one country for one to two years. It also covers their air fare and tuition and doles out a monthly living allowance of P55,000 to P138,000.
The Erasmus+ exchange program was renamed in 2013 when the EU raised its education and training program from 3.1 billion euros to 5 billion euros. —KBK, GMA News