Three officials from the Philippine Embassy in Kuala Lumpur received the Gawad Mabini Award for pioneering alternative learning centers (ALCs) for undocumented Filipino children in Sabah, Malaysia.
Philippine Ambassador to Malaysia J. Eduardo Malaya, Embassy Attaché Atty. Norren Joy Calip, and Social Welfare Attaché Bernard Bonina were recognized for the establishment of six Filipino community-run ALCs.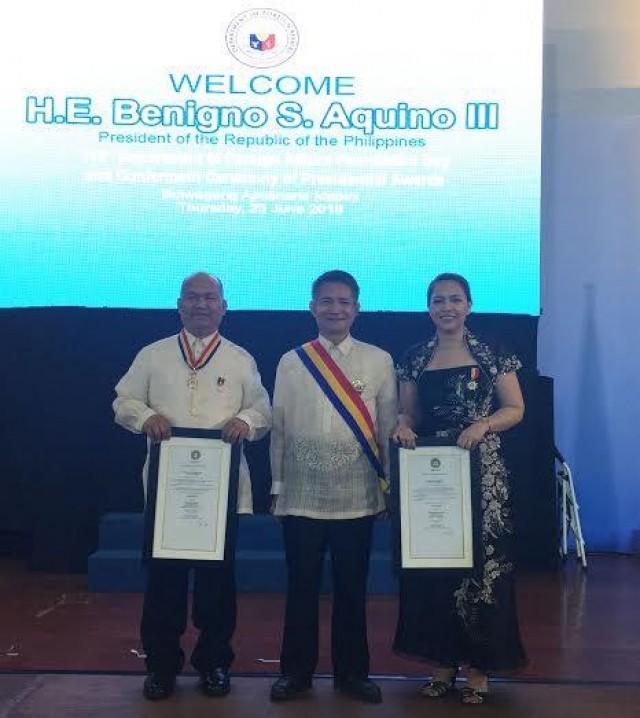 Gawad Mabini awardees from the Embassy pose for this photo after the awarding (from left): former Social Welfare Attache Bernard Bonina, Ambassador J. Eduardo Malaya and Attache Atty. Norren Joy Calip. PHL Embassy photo
At least 2,500 Filipino children from undocumented migrant families were able to achieve basic through the ALCs staffed by volunteers and financed by donations and community fund-raising.
"Filipino children in Sabah are in a precarious situation, and our initiatives are mere first steps in a long journey, but we are hopeful that with the support of all stakeholders, we will be able to improve their lives through education, one child at a time," Malaya said in a statement.
Malaya received the rank of Grand Cross (Dakilang Kamanong) along with Maria Zenaida Angara Collinson, Ambassador to Austria; Jesus S. Domingo, Ambassador to New Zealand; Maria Theresa S. Lazaro, Ambassador to France; Domingo P. Nolasco, Ambassador to Italy; Wlfredo C. Santos, Ambassador to Qatar; and Carlos D. Sorreta, Ambassador to Russia.
Calip earned the rank of Member (Kasugo) for assisting Malaya on the ALC project.
Others who received the Member rank include Anika A. Fernandez of the DFA Cebu Regional Office and Gladys O. Perey of the Embassy in Lebanon.
Bonina was rewarded with the rank of Distinguished Member (Dakilang Kasugo) for helping Filipino victims of trafficking nad for other assistance-to-nationals work.
He received the rank along with Dennis John Briones of the DFA Office of American Affairs; Donna Celeste Feliciano-Gatmaytan of the DFA Office of United Nations and International Organizations, and Siegfred Masangkay of the Philippine Embassy in Syria.
President Benigno Aquino III and acting Foreign Affairs Secretary Jose Rene Almendras bestowed the honors at the ceremony, held in line with the founding anniversary of the Department of Foreign Affairs.
The Gawad Mabini is conferred on Filipinos "who have rendered distinguished foreign service, or helped promote the interests and prestige of the Philippines abroad."
It was established through Presidential Decree No. 490, s. 1974 and named after Apolinario Mabini, the first DFA secretary. —Rie Takumi/KBK, GMA News