The Filipino traditional cuisine batchoy took centerstage in a diplomatic reception held in celebration of the Philippine Independence Day in Israel, an event that also saw X-Factor Israel champion Rose "Osang" Fostanes performing popular Filipino songs and officials from both countries vowing closer bilateral ties.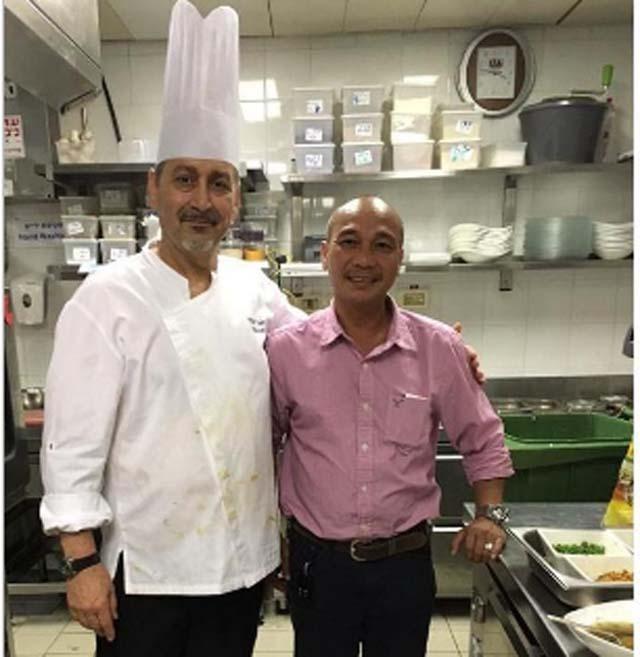 Steve Gargaritano with Hilton Hotel Sous Chef Yosef Eliyahu preparing the batchoy. PHL Embassy photo
The popular noodle with chicken dish that originated in Iloilo tickled the taste buds of the reception's over 200 guests, among them ranking officials from the Israeli government, diplomatic corps, business community, and leaders of the Filipino community.
The reception, hosted by the Philippine Embassy in Tel Aviv, was held Tuesday at the Hilton Hotel in Tel Aviv.
A statement from the Philippine Embassy said the original ingredients of the batchoy were "kosherized" to cater to Israeli requirements. Steve Gargaritano, an embassy staff who is a native of Iloilo, taught Hilton Hotel's chef how to prepare batchoy and achieve its authentic taste.
In his speech, Philippine Ambassador to Israel Neal Imperial highlighted the Philippines' economic achievements, investment opportunities and positive business atmosphere, and encouraged the guests to visit the country and explore tourism and business opportunities there.
For her part, Israeli Minister for Social Equality Gila Gamliel, in a speech, said Israel is looking forward to advancing its special relationship with the Philippines under the incoming administration of President-elect Rodrigo Duterte. She also expressed deep appreciation to outgoing President Benigno Aquino III and his administration for their friendship and support.
Gamliel also thanked the Philippines for its "open doors" policy for Jews fleeing the Holocaust, and for its vote in favor of the United Nations Resolution in 1947 that paved the way for the establishment of the State of Israel.
She said that now it was Israel's turn to "open its doors" to Filipinos who come to Israel to work and to train in various fields, including in agriculture. She mentioned that more than 6,000 Filipinos have received training in Israel.
According to Imperial, Israel is one of the few countries in the Middle East where Filipino workers' contribution to society is recognized and their labor rights are protected.
About 20,000 Filipinos work as caregivers in Israel, among them Fostanes who, in 2014, won the first season of The X Factor Israel and who, along with Israeli singer Tal Kravitz, provided entertainment during the reception with their rendition of popular Filipino songs "Manila, Manila", "Anak" and "Dahil Sa 'Yo." —KBK, GMA News