New York Senator Charles Schumer announced on June 9 that the Department of Homeland Security's (DHS) US Citizenship and Immigration Services (USCIS) will allow certain Filipino World War II veteran family members who are beneficiaries of approved family-based immigrant visa petitions an opportunity to seek a discretionary grant of parole, on a case-by-case basis.
According to DHS, this measure would allow approved family members to come to the United States while they wait for their visa to become available.
"This effort to ease family reunification is long overdue, but it is the right thing to do for the heroic Filipino WWII veterans who aided America in our hour of need. Our Filipino WWII veterans fought selflessly and valiantly for America and for that, we owe them a debt of gratitude," said Schumer in a statement. "This measure reunites Filipino veterans and their family members with their loved ones abroad by expeditiously allowing them to come to the United States."
In 1941, Filipinos in the United States began to enlist in the US Armed Forces, and formed the First and Second Filipino Infantry Regiments. Today, nearly 18,000 of the 300,000 Filipino soldiers who fought in World War II are living in the US and the Philippines. Their courageous contribution attests to the Allied victory in the Pacific.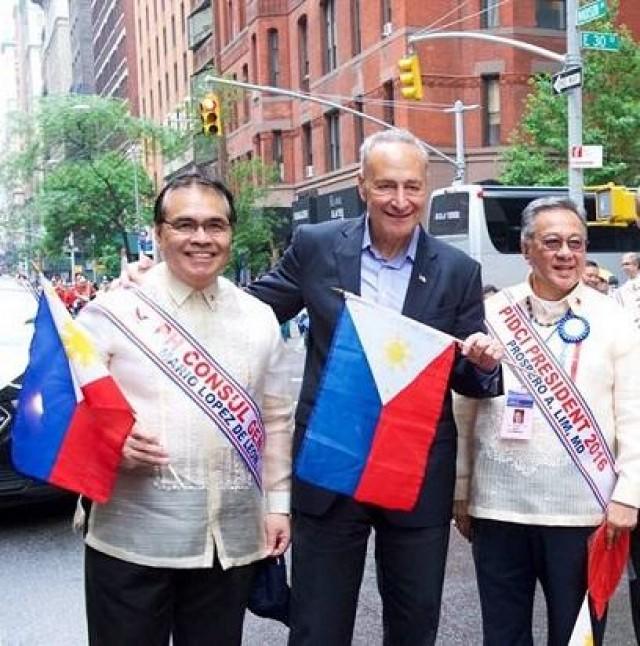 NY Senator Charles Schumer attends the June 5 Philippine Independence Day Parade on Madison Avenue. He is shown here with Consul General Mario de Leon Jr. (left) and parade organizer Dr. Prospero Lim. Photo by Boyet Loverita/The FilAm
The brave Filipinos who supported the US during World War II consisted of soldiers, scouts and guerrillas whose persistence and commitment to the country made them invaluable members of the Armed Forces. Filipino soldiers participated in a myriad of military operations, including infantry combat, intelligence, sabotage, demolition, and reconnaissance.
Schumer announced the new DHS measure, titled the "Filipino World War II Veterans Parole Program." Specifically, the new policy will allow Filipino World War II veterans and surviving spouses who are US citizens or lawful permanent residents to request parole on behalf of family members awaiting approval to come to the United States. The policy will go into effect for applications submitted beginning June 8th.
According to the DHS website, parole is temporary and and does not lead to an immigration status or make you eligible for a Green Card. "It simply allows you to remain in the United States for the period of time that parole is authorized (generally three years for an individual paroled under the FWVP Program) and to apply for work authorization. To get LPR status (a Green Card), you must apply for and meet the eligibility requirements of LPR status.
"Once you are paroled into the United States under the FWVP Program, you will be eligible to apply for work authorization from USCIS," the DHS said.
Schumer said prospective applicants should contact his office with any questions or concerns throughout the application process. Eligible individuals are encouraged to request parole under the program within the next five years. Details can be found at http://www.uscis.gov/fwvp.
"The Filipino American Democratic Club of New York is proud to support our Senator, Charles Schumer as he announces this landmark and historic policy for Filipino WWII Veterans, finally allowing them to be reunited with their loved ones from abroad," said Aries Dela Cruz, president of the FADCNY. "This is an example of what happens when our community comes together to demand action for our Filipino WWII veterans." —The FilAm