Whether it likes it or not, and whether it is reasonable or not, the Aquino administration – now on its final stretch – will be judged by OFWs and advocates alike by the way it handled the Mary Jane Veloso case.
Although the 31-year-old single mother was temporarily saved from execution in Indonesia last April, there are those, including Veloso's relatives, who would not think twice before blaming the government for what could have happened.
Depending on who's talking, the Aquino administration did its best and saved Veloso, or it just claimed it did, or it did something but only at the last minute and just got lucky.
Bayan Muna party-list Rep. Neri Colmenares thinks it's the latter. "It was only when people began to express their outrage over the plight of Mary Jane that the Aquino government acted," he told GMA News Online in May.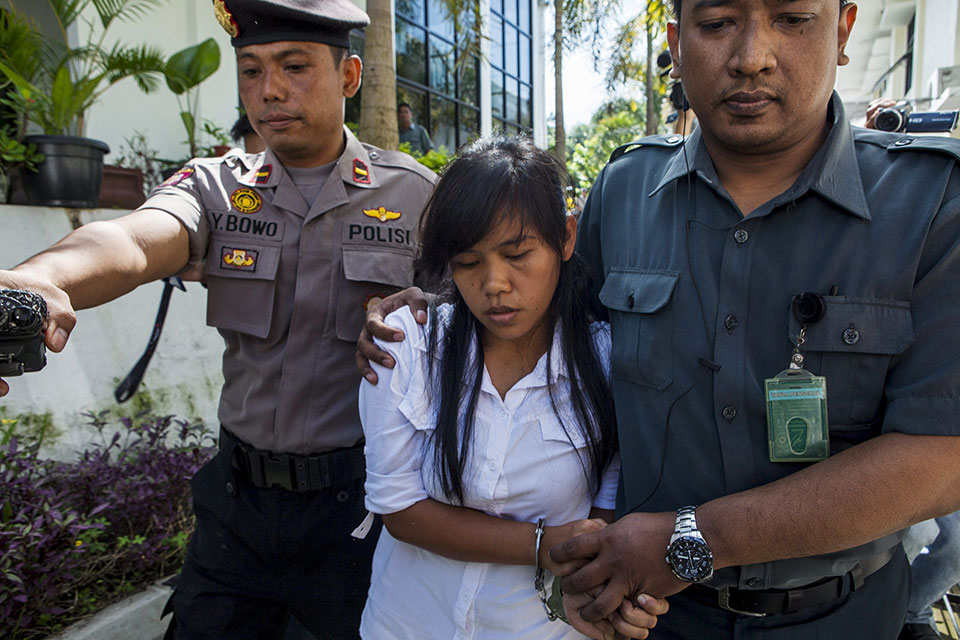 Mary Jane Veloso was arrested and sentenced to death in Indonesia for smuggling heroin. Her execution was put on hold in late April following last-minute appeals by the Philippine government and her supporters.
Tonette Cada Cano, a secretary in a healthcare firm in the UAE, agreed: "I just notice the presence of the government 'pag na-media na ang problema ng isang OFW, just like in Mary Jane's case."
Incidentally, many of the OFWs interviewed by GMA News Online for this article shared that sentiment, noting the metaphorical distance that seemed to have grown between them and their government.
Afterthought
Could OFWs be blamed if they feel like an afterthought when it comes to discussions on the Aquino administration's priorities?
A check on President Aquino's list of priority bills would show that none of them directly affects OFWs, and OFWs and advocates are quick to note that there was never a mention of migrant workers and their rights and welfare in his past SONAs.
This, despite the fact that the Aquino administration, just like past administrations, had repeatedly and openly admitted the key role OFWs play in boosting the country's economy through their remittances.
"Naalala ko pa nga, sa nakaraang SONA ni PNoy, ni hindi niya nabanggit ang acronym na OFW!" said Noli Almero Graciano, 36, a receptionist in a contracting company in the UAE.
Jaimie Mislang, senior executive in a healthcare facility in Singapore, put it more bluntly: "I do not feel the presence of the government as an OFW in Singapore."
According to Mic Catuira, deputy secretary of pro-migrants rights group Migrante, it is "clear that the administration remained apathetic to the plight of Filipino migrants.
"It is evident that their only focus is how to further intensify their labor export policy and maximize government income through state exaction on migrants," he said.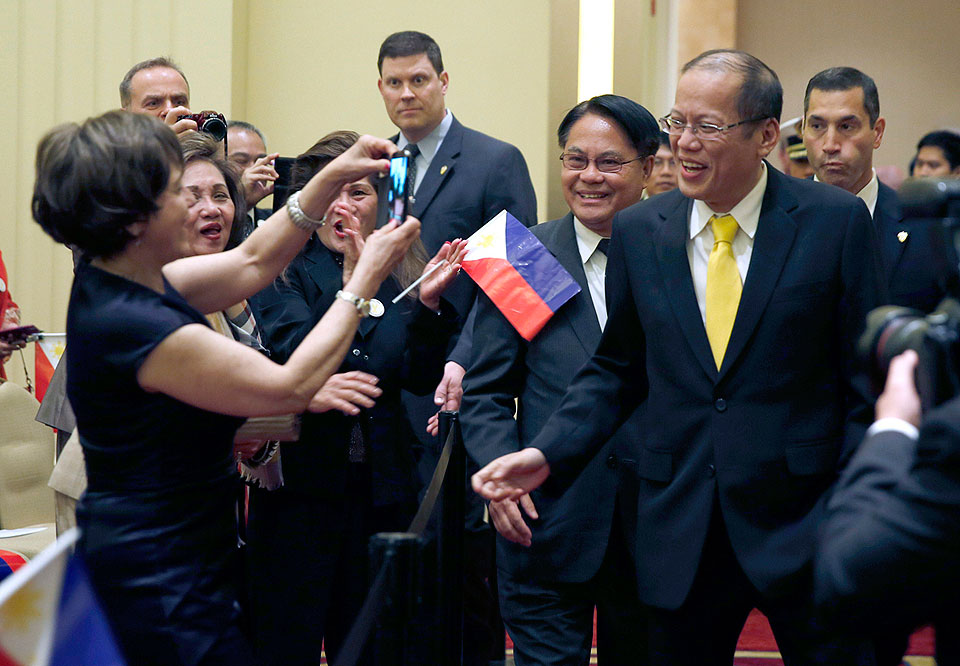 President Benigno Aquino III receives a warm reception from the members of the Filipino community in Chicago during a working visit to the US in May.
The phrase "forced migration" is something critics of the government often bandy around, emphasizing how it is tearing Filipino families apart and leaving OFWs vulnerable to abuses.
"Patuloy 'yung paglabas ng ating mga OFW dahil walang trabaho dito at patuloy na vulnerable sila sa pang-aapi doon sa ibang bansa dahil sa refusal ng gobyerno na tulungan sila," said Colmenares, who is also president of the National Union of People's Lawyers (NUPL), a group assisting Mary Jane Veloso in her case in Indonesia.
Colmenares said it was impossible to counteract this phenomenon until Aquino abandons the "call center-type of development" of job creation in favor of agrarian reform and national industrialization.
"Ganun ka-simple, pero the Aquino administration refuses to heed that and continues the outmoded and discredited policies ng previous administration na foreign investment-led development," he said.
"If this did not succeed before, it will not succeed now, and it will not succeed tomorrow," added Colmenares, who resigned from Congress earlier this year.
Staunch OFW advocate
But despite its shortcomings with OFWs, perceived or otherwise, the Aquino administration remains a "staunch OFW advocate," according to the Department of Foreign Affairs (DFA).
In a statement sent to GMA News Online, the DFA said the Aquino administration, "as a staunch advocate of Filipino migrant workers' rights, continues to implement legislation meant to protect and promote the welfare of OFWs [and] continuously provides assistance to OFWs."
It said part of the assistance includes the creation of the Overseas Preparedness and Response team for migrants in crisis-prone countries through Executive Order No. 34, and the continuance of the Assistance-to-Nationals (ATN) Fund by way of DFA Memorandum Circular No. 01-08-A.
"ATN services [include] repatriation, provision of basic necessities and/medical expenses, settlement of immigration fees/overstaying penalties, consular visits to OFWs, attendance at hearings, payment for translation services/medico-legal/authentication fees/visa, shipment of remains, and financial assistance, among others," the DFA said.
It also noted that the Land Bank of the Philippines had approved P508.8 million in loans to OFW entrepreneurs in 2013 as part of the government's OFW Reintegration Program.
The DFA also pointed out its improved capacity to provide legal assistance to OFWs by replenishing the Legal Assistance Fund (LAF) for OFWs since its budget cuts from 2011.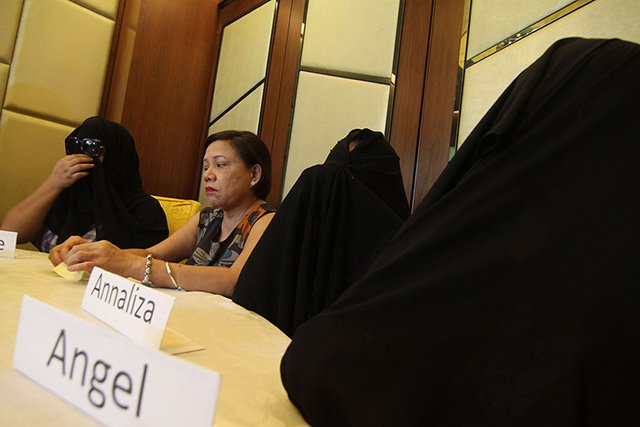 One of the biggest issues concerning OFWs under the Aquino administration was the alleged sex-for-flight scheme by Philippine embassy and labor officials in the Middle East.
"The LAF... shall be used exclusively to provide legal services to migrant workers and overseas Filipinos in distress who are facing criminal charges abroad," it stated.
Pro-OFW legislaton
The DFA also noted some proposed pro-OFW legislation filed during the Aquino administration, primarily of which were Senate Bill No. 507 ("An Act Establishing A Credit Assistance Program for Overseas Workers), which aims to let migrants borrow up to P50,000 from the Overseas Worker and Welfare Administration (OWWA) in their first three months of employment once approved; and House Bill 4985 ("Overseas Workers Credit Assistance Act"), which seeks to give OFWs access to loans before leaving the country to pay for living or recruitment expenses.
Still, some are raising their eyebrows.
"Despite several legislation proposed by allies in both houses, no law favoring migrants have been passed aside from some provisions in the revised anti-human trafficking law, which still remains to be proven substantial," said Migrante's Catuiran.
Engr. Nelson Ramirez of the United Filipino Seafarers, for his part, said the lack of attention to House Bill (HB) 4990 or the Overseas Workers Welfare Administration Act only intensifies government agency's reliance on OFW contributions.
Ramirez also questioned the Aquino administration willingness to spend billions of pesos to implement the Bangsamoro Basic law decision to dedicate billions to implement the Bangsamoro Basic Law, the product of the peace agreement between the government and the Moro Islamic Liberation Front.
"For years OWWA is operating with OFWs' money. The government is not allocating fund for the 12 million OFWs. Yet PNoy has the temerity to allocate P75 billion for the 80,000 rebels," he complained.
What OFWs have to say
The final arbiter of this he said-she said, of course, are the OFWs themselves. Though some are less critical of the administration and would say that they could still feel the Philippine government working for them despite their distance from their homeland, they all agree that more efforts are needed, and concede that not all OFWs can say the same thing.
"Dito sa Singapore, where it is peaceful and orderly, ramdam ko naman ang presence ng PHL government, and so far OK naman ang Aquino admin," said Restituto Kol, a computer programmer. "But ask those who are in troubled states like Libya and Syria, baka iba ang sagot nila regarding presence ng government ng 'Pinas."
Jomer Meriales, a staff nurse in a government hospital in UAE, said: "Nararamdaman at nakikita ko naman na ginagawa ng gobyerno ang lahat ng makakaya nila para sa mga OFW."
Cano, the executive secretary from the UAE, said government misgivings on OFWs shouldn't be entirely blamed on the President.
"[I am] not blaming PNoy for anything. Am sure he is doing his job. Masyado nga lang mahirap 'yung trabaho niya," said Cano, who questioned why the government seems to find it difficult to repatriate distressed OFWs.
Some noted "improvements" under the current administration, although they still find it lacking.
"Kahit sa mga embahada natin ay ramdam mo ang 'di maayos na pagbibigay ng impormasyon bagama't kumpara sa mga nakaraang mga taon ay may pagbabago naman para sa mabuti. Subalit kulang pa rin," said Edgardo Hermosando, 45, who works in a pharmacy in the Middle East.
Wish list
The OFWs contacted by GMA News Online for this article also took the opportunity to air their wish lists not only for President Aquino on his last year in office, but to the succeeding administrations as well – showing that aside from immediate actions, Filipino migrant workers want long-term plans for them from their government.
"Retirement benefits ang gusto ko after na mag-work sa abroad," said Meriales, the staff nurse. "Discounts sa mga establishments sa Pilipinas in case na may bibilhin kaming mga OFW. Kahit kaunti lang, malaking tulong na rin 'yun."
"Dapat ding bigyang pansin ng gobyerno ang pagtulong sa mga pamilya ng OFW sa Pilipinas sa pagbibigay ng prayoridad na matanggap sila sa mga pambansang unibersidad lalo na 'yung may kapasidad na kabataan," said Hermosando.
For Arvin Santos, a computer technician in Saudi Arabia, it is important for OFWs to feel that they have the government as their "ally" while toiling abroad, especially those who are experiencing abuse from foreign employers. His wish: "Kailangan [ng Philippine Embassy] ng mga officers na bibisita sa mga company then asses nila ang status ng mga OFW.
"At least mararamdaman ng OFW na may kakampi siya," Santos said.
If one would really think about it, it is such a simple wish, especially from someone who is far from home. –
KBK/JDS, GMA News