AL AIN, United Arab Emirates — For OFW Alijan Tatel, musicians are not made. They are born.
"And so I was born a musician," said the 29-year-old self-described "radiographer by profession, musician by passion" in an email.
Emboldened by this idea, Alijan produced a 15-track album titled "Kumanderku." The word serves as the record's title and his pseudonym.
"I simply like to be in command, in control, a leader. 'Ku' stands for 'kumag,' to give a little comedic aura to it," he said. "Kumag" translates to "pusa" or cat in the Bicolano dialect.
Talking about his self-produced album, he said "Banta" "challenged me the most because it took me a lot of time how to approach the plan."
"It was about the incident of charcoal mining in our province before," he said.
The song "Ngiti Sa 'King Umaga," meanwhile, is his favorite track in the album because "I was emotionally attached to it the most among all the other songs."
Penchant for instruments
Aside from solely producing an album, Alijan, who works at Wellness One Day Surgery Center in Abu Dhabi, would set aside a portion of his monthly income to purchase musical instruments.
Through hard work, he was able to buy the Alesis DM6 e-drums, a five-piece electronic drum kit; three kinds of guitars (Fender Acoustic, Ibanez Semi-Hollow Electric Guitar, Epiphone Bass Guitar); a percussion set (African Djembe, Darbuka, LP Cajon, Tycoon Bongos), and the accessories of his guitars.
"Those musical instruments were actually purchased by bits and pieces so it wasn't that painful to the pocket," he said. "Gradually, I was able to assemble a wide array of instruments and if it wasn't for my income here in the UAE, I would be having difficulty assimilating those."
He said his penchant for buying instruments started as hobby when he was still in the Philippines.
Early start
Also a self-described "uragon," Alijan is the youngest child among five siblings, three of whom are also OFWs. He said this is the reason why he is not obliged to send money home "although I see to it that I help whenever needed."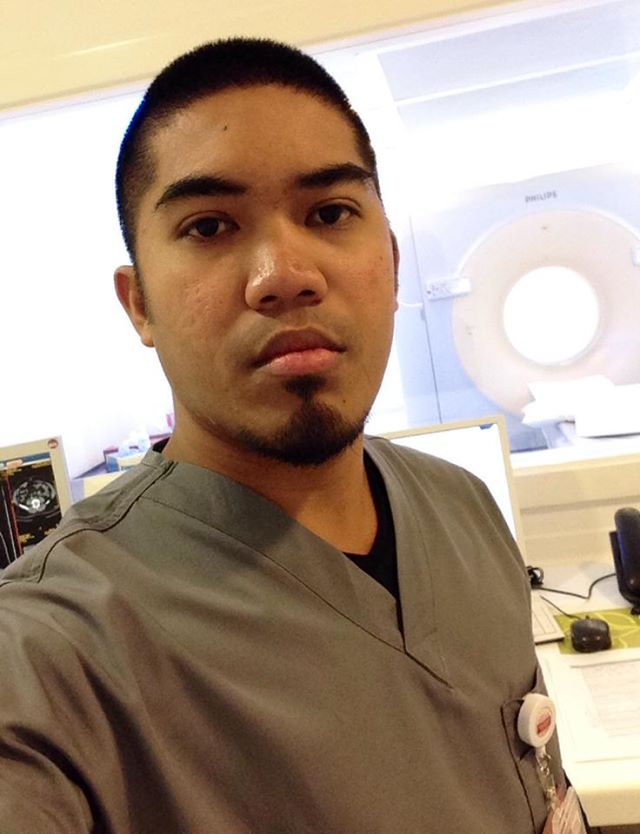 Bicol native Alijan Tatel is a multi-instrumentalist and works as a radiographer in the UAE.
He said his musical inclination started when he was 5.
"Before my primary grades, I already seemed to be inclined to harmony, beats, and sounds," he said, adding he realized this when his eldest brother asked him to sing a few lines.
"He was impressed that I could hit some high notes so he asked me to join the choir group in school," Alijan said. "That was, I think, the daybreak of my serious predisposition of being a musician. In the school I learned to sing a song, hymn a beat, and compose."
Eventually, Alijan learned to play the guitar, the drums, and other percussions.
"Playing the guitar was my first love. Maybe because that is the only easily available instrument that I could play on during the time. I fell in love with my strings," he said. "As time goes by, I was able to learn the drums and other percussions."
Band and solo project
In 2006, while still in the Philippines, Alijan became a member of MarckezPride, a four-man band based in Legazpi, Albay. They were able to complete and launch a seven-track EP titled "Made to Order" that same year.
However, practicability prompted Alijan to seek greener pastures. "I was in college when I realized that working abroad seemed to be profitable," he said.
"I wouldn't want to be left behind by my friends in school who were seriously taking a degree in universities. Besides, given the economic constraints, it's always good to have a steady income-generating day-job to support your music," he added.
When Alijan arrived in the UAE in 2012, he continued "jamming" with other OFWs
. Their group — Nayla's Crib after the hotel where they took their first group photo — was even invited to a fundraising concert for the victims of Typhoon Yolanda, which hit the Philippines in November 2013.
"The Nayla's Crib is not in hiatus. We are just waiting for right project and we will be in the action again," he said of the band's current status.
So while waiting for that "right project," Alijan pursued a project of his own.
"Kumanderku is special to me because it is my first solo project. I did the compositions and mixes as well as the vocals. It was challenging since I have no collaborations in this project and I have to do it on my own," he said.
"Music always challenges me. It has never stopped challenging me in finding the right melody that fits my taste and beat for music. A sound that reflects my personality and soul," Alijan added.
—KBK, GMA News