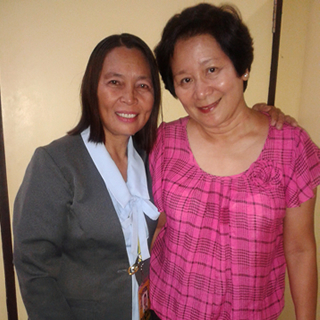 With much fervor and enthusiasm to serve PhilHealth members, Firmeza (left) leaves a mark in the heart of her client, Kutz.
Members of the Philippine Health Insurance Corporation (PhilHealth) in Region VI have expressed their delight in the services of the Corporation.
"Unlike other government agencies, PhilHealth personnel treat everyone special here,"said Genoveva Elvas-Kutz, an overseas retired nurse.
Kutz is mostly impressed with PRO VI's gem, Candida Firmeza who is a Customers' Delight Awardee in the recently concluded PhilHealth PRAISE Honor Awards 2015.
Kutz is married to a German national and has worked with Kreiskrankenhaus Gummersbach Germany Hospital for 28 years. She opted to retire in the Philippines and be enrolled with the state-run health insurance.
Kutz expressed her appreciation to the help extended by Firmeza who explained to her "patiently and explicitly" her health insurance coverage.
"Hats off to Ms. Firmeza. She does something out of the ordinary for all of us. She is so motherly, very accommodating and she makes sure that everybody feels important," Kutz said.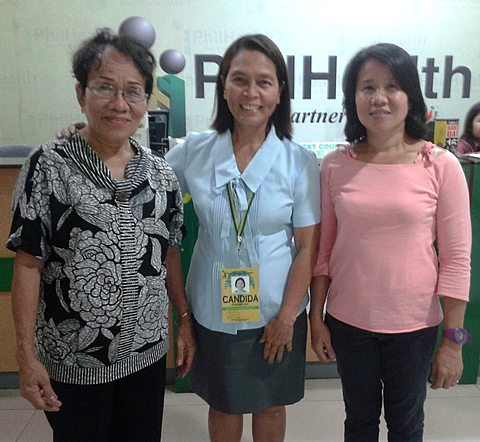 Firmeza (center) makes a lasting impression to mother and daughter Estrada (left) and Gerundiano(right) during their visit to PRO VI when the duo inquired about the benefits of their patient-relative.
Mother and daughter Vilma C. Estrada and Anabelle E. Gerundiano also shared the same sentiments when Firmeza assisted them.
"Ms. Firmeza wears a billion-dollar smile. She's light-hearted and is very pleasant. She really spends time with her clients," exclaimed Estrada.
The mother and daughter were equally pleased with the positive atmosphere in the Regional Office, noting that from the officers down to the security guards, "everyone is smiling."
Jose Maria Lezama of Mandurriao, Iloilo City who frequents the Regional Office has similar thoughts towards Firmeza every time he visits the office.
"I'm a very demanding person yet with the way she (Firmeza) handles her clients, I have no complaints. She's strict and at the same time very accommodating," Lezama said.
Regional Vice-President for Western Visayas, Lourdes F. Diocson also has good words for Firmeza. "It is innate in Ms. Firmeza to consistently offer herself to our members without necessarily expecting a return favor or recognition," Diocson said.
Meanwhile, Firmeza shares these inspiring words: "I feel good when I selflessly serve others without thinking of any reward because I actually gain more than my own sacrifices." (Lissette G. Lira)