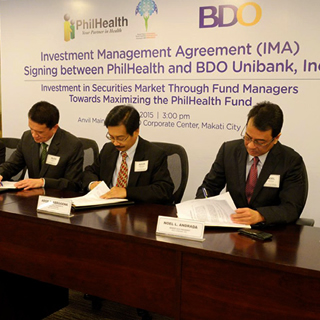 The Philippine Health Insurance Corporation (PhilHealth) has tapped the Banco de Oro Unibank, Inc. (BDO) to be its first Local Fund Manager to help grow the health insurance fund and ensure its stability for the benefit of PhilHealth's 86 million beneficiaries.
The Investment Management Agreement was signed by PhilHealth President and CEO Alexander A. Padilla and Ador A. Abrogena, Executive Vice President of BDO Trust at the BDO's office in Makati City.
As local fund manager, BDO will manage P1 billion, which is only a small portion of PhilHealth's investment reserve fund, and ensure that the fund grows so that PhilHealth can continue to provide for the health insurance benefits of its growing membership base. The partnership is expected to further maximize the returns that PhilHealth generates from its current investments and pave the way for the attainment of the investment objective of optimizing growth and yield through active investments in the
STOCK MARKET
through a disciplined stock selection process.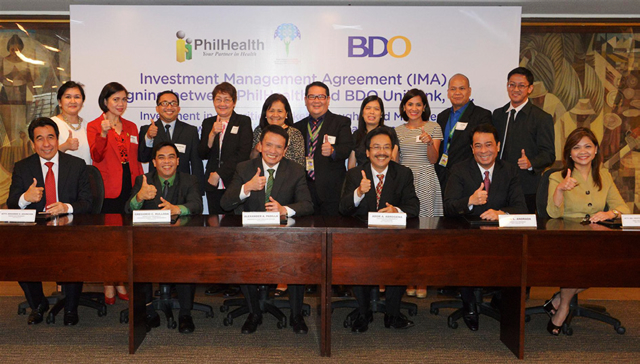 "We are very happy that BDO is our first local fund manager,"Padilla said. "We rely a lot not only on our collections of premium for the reimbursement of PhilHealth benefits but also in the investments that we do. So far, we have been performing well in investments but we are limited to fixed government securities as well as government bonds. Now that we partnered with BDO, we expect bigger returns in equities," he added.
BDO Trust will manage the investment portfolio based on strict implementing directives stated in the
STOCK INVESTMENT
Guidelines provided by PhilHealth. "PhilHealth has a huge responsibility of providing benefits to millions of our countrymen. It is therefore very important that we as fund managers make sure that we manage this fund with the highest degree of responsibility for the fund to perform its objective of providing universal health coverage for all of us. That is the commitment of BDO," said Abrogena.
PhilHealth shall continue to tap the services of four (4) more local fund managers through public bidding by the end of the year. (END) (Pinky G. Aragones)