An award-winning film by two GMA News and Public Affairs producers was featured in the 3rd Duhok International Film Festival in Iraq last September 10.
The only entry from Southeast Asia, "Children's Show" by director Roderick Cabrido and producer Joseph Israel Laban is vying for the festival's Yilmaz Guney Award for Best International Feature-Length Film and the New Talent Award for the Best First or Second International Feature Length Film.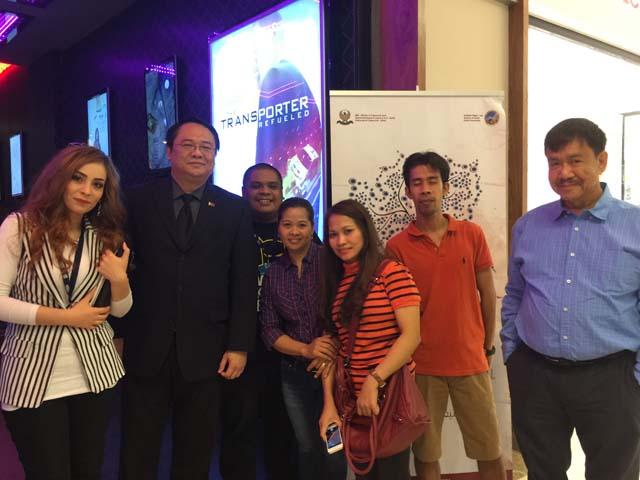 Chargé d'Affaires Elmer G. Cato of the Philippine Embassy in Baghdad joins producer Joseph Israel Laban and members of the Filipino Community following the screening of "Children's Show"—the sole Philippine entry in the 3rd Duhok International Film Festival in Iraq. The highly acclaimed movie, directed by Roderick Cabrido, is the first Filipino film to be screened in competition in Iraq in decades. Photo by Philippine Embassy
"Children's Show" previously won the Special Jury Prize, Grand Jury Award for Best Screenplay and Fantastic Cinema Emerging Filmmaker Award for Cabrido at the Fantastic Cinema Festival of the Film Society of Little Rock in Arkansas.
It also took home the special Jury Prize in the Orient Express Section at the 35th Oporto International Film Festival in Portugal and the Grand Prize at the Gwangju International Film Festival in South Korea.
Also featured in Cinemalaya 2015
, "Children's Show" tells the story of Al and Jun, two young brothers who are forced to take part in semi-legal boxing matches to support themselves and their grandmother.
When the twins begin to find some success in their career, their estranged father returns, leading to a confrontation between the boys and their father.
Cabrido, a Tondo-raised filmmaker, created documentaries such as "Pinays for Export" and "Tasaday before directing "Cuchera" and "Nuwebe".
Meanwhile, the Palanca-winning playwright Laban wrote and produced "Cuchera" and "Nuwebe," and directed, wrote, and produced "Antipo" with Cabrido, who did the film's cinematography.
"We hope that 'Children's Show' would open the door for the participation of more Filipino films in Duhok and in the other film festivals in Iraq in the future," said Embassy Chargé d'Affaires Elmer G. Cato. —
Rie Takumi/KBK, GMA News
- See more at: http://www.gmanetwork.com/news/story/537136/news/pinoyabroad/film-by-gma-news-amp-public-affairs-producers-featured-in-iraq-film-fest#sthash.xDIg23Ze.dpuf