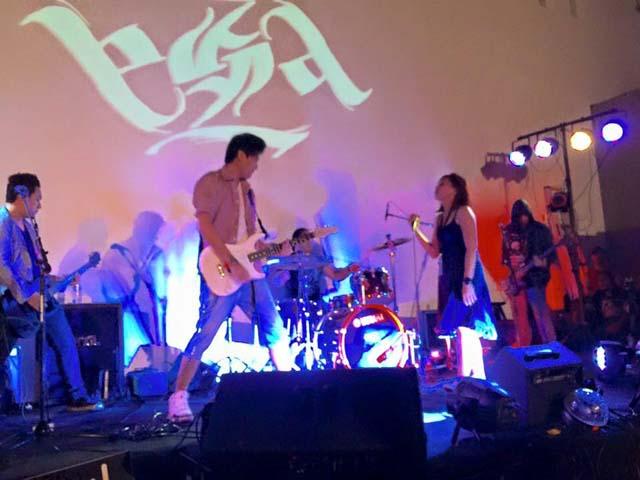 Ela in action in Abu Dhabi
AL AIN, United Arab Emirates – The music of Abu Dhabi-based all-Pinoy band Ela covers a lot of genres — punk, alternative, heavy metal. But guitarist Bryan Uriarte has one word to describe their style: heartcore.
Uriarte, however, clarified that their playlist is not always about love songs as it is about songs with stories and different meanings.
"We are not saying that love is the only feeling in this world because every person has his or her own emotion," said Uriarte via e-mail. "'Yun ang tugtugan namin. Although wala pa naman kaming composition, on every song na natugtog namin, iba-iba iyong kuwento and meaning."
The band is composed of five OFWs — Uriarte, 25, an office administrator in Mussafah Abu Dhabi; vocalist Ellalaine Villaflor, 30, a customer service staff in the Abu Dhabi National Oil Company; bassist Jerome Andrada, 24, a system administrator in the Archirodon Construction Company SA; guitarist Gallahad Albano, 38, an architectural designer in Giffin Traffics; and drummer Joe Louie Bacala, 30, an electrician.
Being far from their own families in the Philippines, each member of the band considers Ela to be their family.
"We consider the band as a family," Uriarte said. "We decide as one, we share ideas and suggestions. 'Pag merong mga decision-making, lahat pinapaalam and pinag-uusapan. When we perform, we perform as one."
No leader of the band
It is a family, however, that is without a leader.
"We don't have a leader. Anyone can speak for the whole and that's the best about Ela," Uriarte said.
Ela formed in August 8, 2014 to join an event organized by a Filipino studio owner who wanted to gather Filipino musicians, bands and performers all across UAE.
"Tinipon niya iyong tumutugtog or nag-babanda na before hanggang sa ma-sort out kung sino ang magkaka-taste sa music and genre," Uriarte said.
Uriarte said he was the band's first vocalist. "But after nung 1st praktis, napag-desisyonang mag-gitara na lang ako dahil iyong isang guitarist ay hindi maka-relate sa napiling genre."
The name Ela
"Then dun sumali si Ella as the vocalist and kung saan namin binase iyong name ng band," he added.
Among themselves, the band members would joke around that Ela stands for "Extra Lang Ako." Ellalaine used to play for another band, limiting her time for Ela.
Since Ela started, it has graced charity events in cooperation with the KonekTado Productions.
It has performed during the "Brunch-For-A-Cause" on December 19, 2014, a fundraising event held in the Philippine Embassy in Dubai for the benefit of the victims of Typhoon Ruby; "Christmas Charity" on December 6, 2014 held in a hotel in Abu Dhabi; and "Paskuhan Sa Abu Dhabi" on December 12, 2014, which was led by the Philippine Bayanihan Councils.
Their most recent gig was during the 14th season tournament of the Pinoy Ekspat Interfaith Basketball League (PEIBL), held last May 1.
—KBK, GMA News