US President Barack Obama has nominated a second-generation Filipino-American military officer for the top US Navy post, a report on GMA News TV's "QRT" said Friday.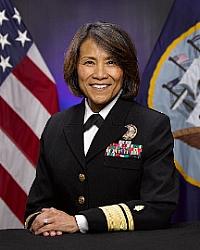 The report said Rear Admiral Raquel Bono has been nominated for promotion to the rank of vice admiral and for the post of Defense Health Agency director.
Naval news site
The Dolphin
said Bono's grandfather was commissioned as a US Army colonel and served in the Philippine campaign against Japan during World War II.
Her parents migrated to Minnesota after the war, enabling her father to complete his residency and retire as a captain in the Navy Reserve.
According to
Bono's profile on the US Navy website
, she completed a General Surgery residency at Naval Medical Center Portsmouth and Trauma and Critical Care fellowship at the Eastern Virginia Graduate School of Medicine in Norfolk before undergoing training.
She was commissioned in June 1979 and was deployed as head of Casualty Receiving, Fleet Hospital Five in Operations Desert Shield and Desert Storm in Saudi Arabia from August 1990 to March 1991.
Desert Shield was launched to protect Saudi Arabia from an Iraqi takeover led by late dictator Saddam Hussein while Desert Storm was a retaliatory strike against Iraq's military targets.
Bono went on to serve in different Naval hospitals and directorial positions before she was appointed as the director of the National Capital Region Medical Directorate of the Defense Health Agency and the 11th Chief of the Navy Medical Corps in 2014.
The Dolphin also noted that Bono and her sibling, Rear Admiral Anatolio B. Cruz III, were the only Filipino siblings to ever simultaneously hold flag-officer rank in the US Navy.
Should Bono get the promotion to vice admiral, she would have the highest rank ever held by a person of Filipino descent in the US Navy.
—Rie Takumi/KBK, GMA News
- See more at: http://www.gmanetwork.com/news/story/537471/news/pinoyabroad/obama-nominates-fil-am-for-top-navy-post#sthash.EnGmoklN.dpuf