A Filipina underwent operation last week in Saudi Arabia to remove the blood clot in her brain that she sustained after she was allegedly raped.
A
report on Arab News
on Tuesday said the victim — 25 years old and from Kabuntalan, Maguindanao, based on her passport — was brought to the hospital by Red Crescent. She was reportedly first brought by her employer to the Saudi Social Welfare Agency (SWA).
According to Migrante-Middle East, the victim was brought by her employer to SWA on September 19.
Migrante-Middle East spokesperson Francis Dungca told GMA News Online that the OFW was lucid enough during her arrival at the facility that she was able to relay a few details about her condition.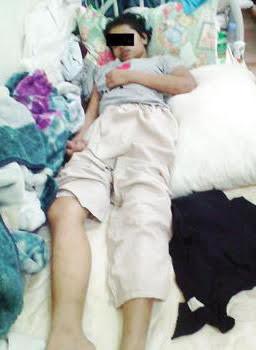 Photo courtesy of Migrante-Middle East
"Ang sabi sa amin ng kasamahan namin sa Social Welfare Agency ng Saudi, pinakain daw siya ng silicon at clay ng kanyang employer. Matapos ang ilang araw, hindi na siya nakakatayo, hindi na makapagsalita, hindi na rin makausap ng normal," he said.
The OFW supposedly fell unconscious before she was able to identify who had sexually abused her.
According to Dungca, the victim was also able to tell SWA authorities that she was actually 17 years old, contrary to the information stated on her passport.
"Pinepeke nila yung kanilang mga pasaporte. Nakahawak na ako ng limang kaso na ganito. Ang common [trait] nila is galing lahat from Mindanao," he said.
Dungca said the Philippine Overseas Labor Office in Saudi Arabia could easily trace back the victim's employer due to the Philippine Overseas Employment Agency's database of licensed agencies deploying Filipino workers abroad.
—Rie Takumi/KBK, GMA News