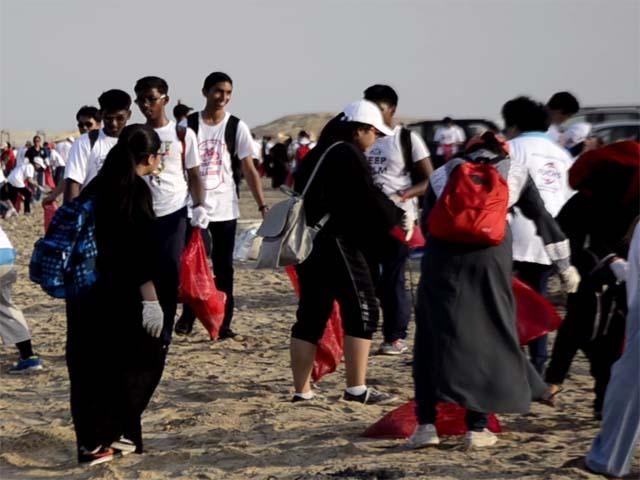 JEDDAH, Saudi Arabia — Hundreds of Filipinos here participated in the 30th International Coastal Clean-up last Friday morning, an event that aimed to free the city's northern coastline of garbage.
A total of 2,176 expatriates, along with their dependents, students from different communities, Philippine Consulate officials and staff, were provided with garbage bags to collect garbage left by picnickers on the sandy areas of Salman open beach in Bouhairat North of Obhur as early as 7 a.m.
The Jeddah-based ocean conservancy group Alliance of Proactive Organizations Center for Environmental Advocacy (APOCEA) spearheaded the activity.
Peddie H. Holanda, the group's founding chairman, said 75 percent of the participants are overseas Filipino workers (OFWs) from more than 60 organizations, and students from the four international Philippine schools.
Holanda said among the groups that joined the event, the International Indian School in Jeddah (IISJ) had the most number of participants, with 389 students and teachers. Other nationalities such as Saudis, Pakistanis, Bangladeshi, Egyptians, Jordanians and Palestinians also participated.
Tons of garbage bags full of rubbish were collected and later loaded onto a garbage truck for proper disposal.
Holanda said the event was successful because of the participants who supported it and exhibited the spirit of volunteerism.
Philippine Consul General Imelda M. Panolong, meanwhile, urged everybody to be responsible in keeping the environment clean.
"What we make our presence here more meaningful is that we don't just stop here," she said. "When we leave this place, we continue doing, wherever we are, what we are going to do here today, meaning in our homes, in our schools, in our offices, everywhere we go, in the malls. Let us practice a responsible way of disposing our trash."
"So again, let us make our presence here meaningful by practicing what we preach," she added.
She also expressed her gratitude to all the participants of the clean-up drive.
Ayman A. Darandary, marketing general manager of Alhamrani-Fuchs Petroleum Saudi Arabia, said this year's activity was one of the most successful event they have sponsored.
Darandary also expressed his gratitude to the Filipino community for organizing the clean-up.
—Ronaldo Z. Concha/KBK, GMA News