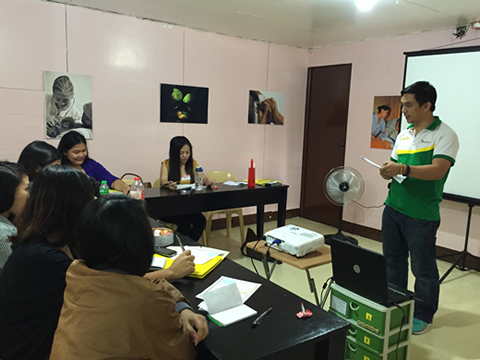 Abatteng conducts an IEC campaign on the administration of the NHIP to first-time, expectant mothers during the 2nd session of the Prime Class 2015 at the BGHMC Health Education and Promotion Office
All of us want something positive to come into our lives. A brand new car, a promotion, a new mobile phone are some pleasant things that, in more ways than one, make our existence pleasurable. However, two lines on a pregnancy test kit are dreaded by most women, especially those who are unprepared for it.
PhilHealth Cordillera pursues the call for the achievement of one of the Millennium Development Goals on maternal health, particularly on reducing maternal deaths in the country. This goal seems impossible to achieve, since there are 162 in every 100,000 pregnant women who die due to maternal complications in the Philippines. Maternal complications not only relate to those having scientific bases but more so on lack of maternal education, which plays a vital role at the onset of pregnancy.
In order to address the gap, PhilHealth CAR, through its Baguio Local Health Insurance Office (LHIO), conducts a regular intensive Information, Education and Communication (IEC) campaign to first-time, expectant mothers through its participation in the Baguio General Hospital and Medical Center's (BGHMC) Prime Class 2015.
The BGHMC through its Health Education and Promotion Office aims to help women in their journey through pregnancy and child birth by conducting a free seminar on responsible motherhood called the "Prime Class 2015." It runs for four hours on three (3) consecutive Fridays of each month and is intended for first-time, expectant mothers (primi), thus the term "prime." It covers discussions on the three (3) important periods of motherhood – the pre-natal, perinatal, and the post-natal periods. Subject matter experts for the sessions come from a pool of doctors (Obstetrics-Gynecology Department), nurses and midwives employed at the same hospital and a PhilHealth staffmember from the Baguio LHIO. The topics for every session highlights the importance of breastfeeding as well as breastfeeding positions, family planning methods, maternity exercises, diet for pregnancy, pain management during labor, feelings and emotions after delivery, and PhilHealth benefits and availment for women about to give birth.
Randy S. Occidental, RN, MAN, Nurse V of BGHMC and outgoing Head of the Health and Promotion Office told us in an interview that the classes started in November 2014 and are now on its 9th batch providing maternal education to expectant mothers. "The focus of the prime classes is towards awareness and behavioural change as well as holistic preparedness on the part of the expectant mother," Occidental said. "This is BGHMC's contribution to reducing the maternal mortality rate in the region," he added, noting that although participants have inhibitions in attending the seminar because of the social stigma attached particularly to teen pregnancy and single parenthood, he and his team strongly enjoin them to attend the seminar for better decision-making, not only for themselves as primis but also for the good of their babies as well.
When asked how PhilHealth contributes to their objective of educating these first-time, expectant mothers, Occidental is quick to mention that the conduct of such classes is mutually beneficial to BGHMC and PhilHealth. "Napakalaking tulong at napakagandang support ng PhilHealth sa amin dahil very personalized ang explanation ng PhilHealth sa mga participants," he said. Aside from being empowered through the informative and demonstrative learning sessions, participants are also assured of financial risk protection which is PhilHealth's mandate as a social health insurance provider.
Sitting in on one of the sessions of the Prime Class brought me to a whole new experience not only because of the diverse composition of the participants but also of the questions raised by participants. Despite the variations in age and status, participants posed intelligent questions to Harold Chris D. Abatteng, SIO I of the Baguio LHIO during his lecture. Questions touched on availment of PhilHealth benefits, membership and contribution issues, how to declare dependents, age limit of members, and concerns on expectant mother being a teenager who is a legal dependent of her father. In general, all participants gave positive feedback towards PhilHealth and they were delighted about the benefits provided y the Corporation for women about to give birth.
Indeed, getting through the perils of pregnancy and child birth is not an easy take for all women. Even if the joys of motherhood after childbirth make up for the anxiety and fear attached to gravidity, nothing beats a holistic grasp of the interludes to gestation and child birth. (END) (Lala Manzano)