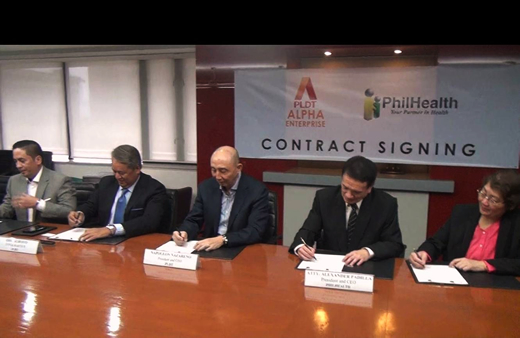 Shown signing the MOA are (from L) Jovy Hernandez, EVP & Head, PLDT Alpha Enterprise, Eric Alberto, EVP, PLDT, Napoleon Nazareno, President & Chief Executive Officer, PLDT, Alexander A. Padilla, PhilHealth President & Chief Executive Officer and Jovita Aragona, SVP & Chief Information Officer, PhilHealth (Photo credit: Eugenio Padilla, Jr.)
TO ensure that quality and fast services will be delivered to its clientele, the Philippine Health Insurance Corporation (PhilHealth) recently tapped a telecommunications company to enhance the existing connectivity of all its offices.
At present, 24 Regional and Local Health Insurance Offices (LHIOs) are connected using the Internet Protocol-Virtual Private Network (IP-VPN) technology including the backbone network backhaul for data centers. The remaining LHIOs that are connected via the Internet for daily transactions have limited bandwidth that restricts PhilHealth from delivering prompt services to its members specifically in the offices with high volume of transactions.
However, with the Secondary Link for PROs and LHIOs project, the number of connected offices will increase to 126, replacing the current Internet connections with IP-VPN technology plus sufficient bandwidth as stipulated in the Service Level Agreement with PLDT. The improvement will solve the bottleneck in terms of connectivity and moves PhilHealth one step closer towards its objective of achieving even better Customer Satisfaction.
"We're very happy with this partnership. For so long we've had some problems and technical glitches with our information technology. But we believe that PLDT will contribute tremendously to our effort," said Alexander A. Padilla, PhilHealth President and Chief Executive Officer.
The contract signed with PLDT is a two year-long engagement by virtue of PLDT Alpha Enterprise winning the bid for a telecommunications company that can provide communication links between PhilHealth Head Office and its PROs and LHIOs. The partnership will generally improve connectivity of PhilHealth's offices thereby translating into faster transaction times at the frontline servicing areas.
"With 89 million Filipinos relying on our frontline services especially when medical necessities arise, we must have a reliable IT infrastructure that can facilitate transactions especially at point-of-service," emphasized Padilla.
Overwhelmed by the current PhilHealth coverage, PLDT President and Chief Executive Officer, Napoleon Nazareno said, "I never thought that some other entity would have a higher subscriber base than ours - 86M customers, that is the vast majority of the Filipino population, and we are really excited and delighted to be your partner and hopefully we can help in the course of doing so, and contribute to nation building."
Eric Alberto, PLDT's Executive Vice President stated that PhilHealth, being one of the most, if not the most, relevant institutions in this country and serving practically the whole Filipino population, had already garnered the status as the most excellent customer fronting services among all public services.
"With this enablement of shrinking of 126 sites of PhilHealth through our PLDT group's IT product environment network, we hope we could provide you with the necessary technology tools by which you can sustain the status as being the premier public customer service institution in the country."
Under the agreement, PLDT Alpha Enterprise shall install and operationalize PhilHealth Wide Area Network (WAN) connectivity to address initial requirements. It shall also supply the communication linkages, hardware and software requirements, integrate the WAN connectivity to the PhilHealth Enterprise Network, ensure its security and maintain the continued and undisrupted operation of the WAN connectivity.
"While we provide for services to doctors and hospital providers, I think the very important aspect of our work is trying to make each and every Filipino happy with our services. I think we will go a long way with PLDT. This is just probably the start, hopefully not the end, and is a continuing process. I hope PLDT can hopefully give us the necessary services - real time connection, and improve the delivery of services that I think our people have longed for. I think if there's one thing that PhilHealth and PLDT commonly share - that is, our own members' appreciation and benefits that they deserve, and we hope to have a long term, stable, increasing and mutually profitable relationship," Padilla stated. (END)

(Emelita M. Retuta)