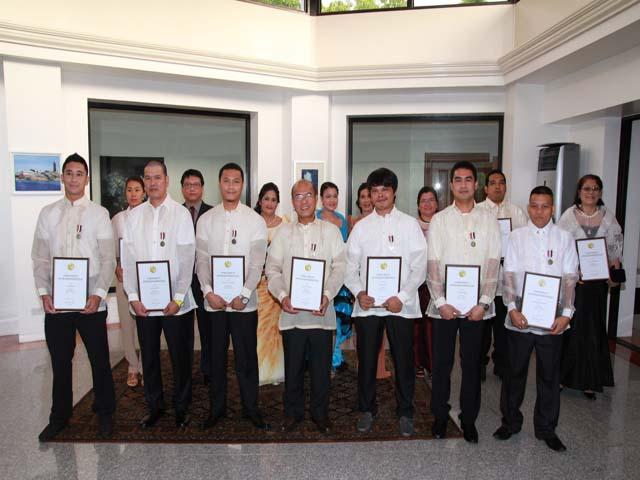 Fifteen Filipino seafarers received operational medals from the Norwegian Armed Forces on Thursday for assisting the Scandanavian country and the United Nations in a critical mission in 2014.
The 15 men represent the second batch of Filipino awardees who were recognized for their service aboard M/V Taiko, one of the cargo ships that transferred part of Syria's chemical weapon stockpile to Finland and the United States.
Norwegian Ambassador to the Philippines Erik Førner described the occassion as "rare and historic" as this was the first time civilians were awarded the medals since World War II.
"You made a difference. You proved that the international community can join forces and ensure that words are followed by action. And you demonstrated once again that excellence and professionalism are trademarks of the Filipino seafarer," Førner said.
Foreign Affairs Secretary Albert del Rosario said the seafarers showed an outlook that was "truly worth emulating" before thanking them for their contributions.
A
report on the Maritime Executive
said the first batch of seafarers were given operational medals in Bergen, Norway, last June.
Jan Eyvin Wang, President and CEO of M/V Taiko owner Wilhelmsen ASA, said that the ceremony recognized the "crew's competencies to solve the mission," while Taiko Commander Senior Grade John Gunnar Refsnes called the Filipinos' performance a show of "high quality seamanship and efficient cargo handling."
According to data from the Philippine Overseas Employment Agency (POEA), there were 367,166 Filipino seafarers deployed in 2012.
—Rie Takumi/KBK, GMA News