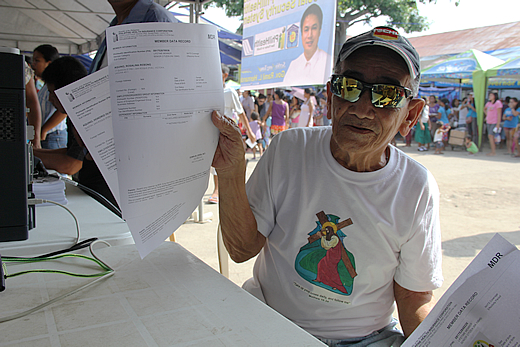 Honorio Aquino, the first client of PhilHealth during the Tamang Serbisyo Caravan in Victoria, Laguna registered as Senior Citizen. He also registered his spouse under the same program.
With PhilHealth's mandate to cover all Filipinos under the National Health Insurance Program, PhilHealth Regional Office IVA will take any opportunity to attain this goal.
Recently, PRO IVA joined the Serbisyong Tama Caravan headed by Laguna Governor Ramil Hernandez. The caravan serves as a one-stop-shop of services that include medical and dental mission, jobs fair, livelihood training, legal assistance and feeding program. Other government agencies such as Pag-Ibig Fund and Social Security System (SSS) were also invited to join the Victoria leg of the caravan.
PhilHealth set up an online registration service where non-PhilHealth members can enroll and have their PhilHealth Identification Numbers (PIN) and Member Data Records (MDR) in just a few minutes. Members who wish to amend information in their member data records such as change in membership category and declaring additional qualified dependents were also catered to during the caravan.
Senior Citizens took the opportunity to enroll themselves to PhilHealth during the event. With the effectivity of Republic Act 10645, also known as the "The Expanded Senior Citizen Act of 2010", all senior citizens who do not have qualifying contributions to the NHIP, will be automatically enrolled under the Senior Citizen category.
Twenty three (23) new PhilHealth members were registered, mostly senior citizens, while 35 transactions were on amendment and re-issuance of MDR. The online registration was spearheaded by Membership Section Officer-in-charge Jovelier Ocado.
Indeed, PhilHealth can reach out and serve its members and would-be members through this kind of event in cooperation with the Local Government Units. (END)(Jerell P. Chua)